FT TC Ride Height Gauge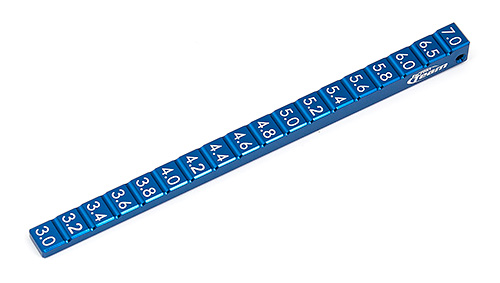 | | |
| --- | --- |
| Part # | 1452 |
| Pkg Qty | 1 |
| UPC | 784695014527 |
| MSRP | $15.99 |
| Availability | Discontinued |
Features:
CNC machined from high-quality aluminum AE blue Anodizing for smooth, long-lasting surface finish Gauge reads from 3.0mm to 7.0mm Steps from 3.0 to 6.0mm in 0.2mm increments Compatible with both sedan and 1:12 scale model vehicles AE's new design allows for finer ride height adjustments while its sleek professional look enhances any driver's toolbox Belongs in every racer's toolbox. It helps you set the ride height, the distance between the ground and the chassis, equally at all four corners -- one important component for a balanced setup
FT TC Ride Height Gauge
This new Ride Height Gauge measures steps from 3.0 to 6.0 in .2 increments, with a half-step between 6.0 to 7.0, allowing you to set your ride height with finer tuning adjustments. Great for 1:10 touring cars and 1:12 pan cars.

Need to set a higher ride height than 7.0? Team Associated's #1450 Ride Height Gauge with steps from 3.0 to 10.0 in half-step increments is still available.
Specifications:
There are no specifications listed for this item.
This part fits the following vehicles:
There are no replacement parts linked to this product.