Team Associated and VRC-PRO Join Forces!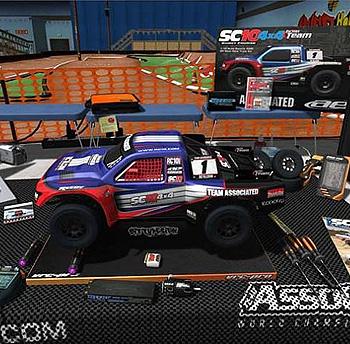 As a preferred partner, Team Associated's SC10 4x4 short course truck, the TC6.2 touring car, and the 1:12 scale 12R5.2 car will be highlighted in VRC-Pro. Team Associated will use VRC-Pro's unique in-game advertising features to promote their brand and products.

Beginning in 2014, Team Associated kit and RTR buyers will receive an included VRC-Pro voucher. The VRC-Pro voucher provides a great opportunity for Team Associated buyers, offering a fun and easy entry into the world of RC online simulation. Whether you are new to RC online simulators, a seasoned veteran, or any skill level in between, VRC-Pro is a great way to sharpen your skills and have a lot of fun doing it!

The included VRC-Pro voucher provides a promotional code giving free access to a full option SC10 4x4 Factory Team short-course truck to drive and race in the Free-to-Play VRC-Pro state-of-the-art RC racing simulator. So, be sure to look for your VRC-Pro voucher in your next Team Associated car, buggy, or truck purchase and get in the game!

VRC-PRO is the quickest, cheapest, and easiest way to get more track time while improving RC driving skills. Join the nearly 60,000 current registered members for unlimited practice and RC racing fun!

Team Associated has been in the forefront of RC racing since 1965 and has amassed a total of 27 I.F.M.A.R. World Championship titles in that time, with vehicles ranging from on road to off road, powered by electric motors and nitro engines.
---