2015 Reedy International Off-Road Race of Champions Announced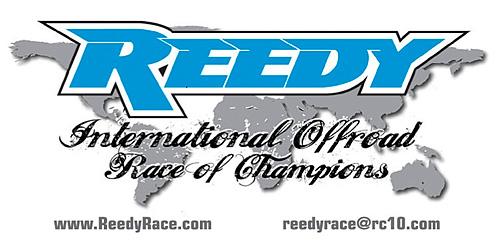 The Reedy Race is pleased to announce that the 2015 Reedy International Off-Road Race of Champions will return to OCRC Raceway in Huntington Beach, CA January 22-25, 2015.

2014 was the first year that the Reedy Race was held at OCRC Raceway and the response was extremely positive, not only from the racers, but from spectators, event sponsors, industry representatives, and the media. With support from Team Associated, UpGrade, Pro-Line, JConcepts, LiveRC and the addition of Monster Energy, the 2014 event was taken to a whole new level.

The results saw Ryan Cavalieri crowned Invitational champion for the third time and for the second consecutive year. In the 2WD Open class, J.P. Richards claimed the title while Spencer Rivkin took the 4WD Open class. Both of these racers will join Cavalieri and the World's best to compete for the 2015 Invitational title.

Entries for the 2015 Reedy International Off-Road race of Champions open at noon, PST on September 1, 2014 exclusively on www.rcsignup.com and close October 19, 2014 at midnight, PST. As in previous years, the event features its traditional 2WD Open and 4WD Open classes and the combined Invitational 2WD/4WD format.

To allow everyone an opportunity to be a part of the 21st running of the Reedy Race, a lottery drawing for the open classes will be conducted on October 20th with the first 200 entries drawn securing a place in the event. Entry fees are collected after the lottery drawing and for the selected Open and Invitational drivers only. Remember, included with each confirmed and paid entry is a complete set of control tires, inserts, and a personalized grab bag.

With all the major championships completed for 2014, the ranked list of qualified Invitational drivers can be found at www.reedyrace.com/2015/offroad/qualified.html. If you are one of the qualified drivers, please be sure to register under the Invitational event once entries open. If more than 30 qualified drivers wish to participate, the entries will be sorted in ranked order with those drivers ranked beyond 30 guaranteed a spot in the Open classes and listed as first alternates for cancellations in the Invitational class.

Stay tuned to www.reedyrace.com for more information and event updates. Inquiries regarding the event should be directed to reedyrace@rc10.com.