Article: Ryan Cavalieri's Team Associated SC10.2 Factory Team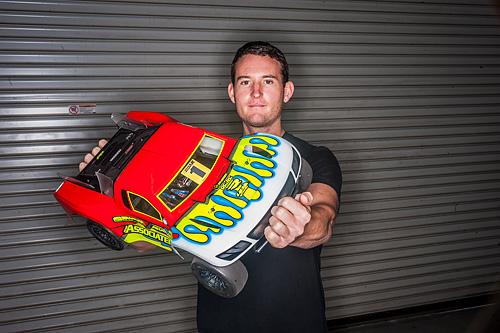 Ryan Cavalieri's Team Associated SC10.2 Factory Team
Secrets of the ROAR Champ
Text and photos courtesy of Radio Control Car Action
Article appeared in Radio Control Short Course & Off-Road Winter 2015 issue (released Dec. 2014)
WORDS AND PHOTOS BY CARL HYNDMAN
Ryan does a lot of his testing at OCRC Raceway and this gives him a solid base setup for big events like the ROAR Nationals. More work up front means less later and he can just focus on driving.

Team Associated's Ryan Cavalieri is synonymous with RC off-road racing. He's won just about every race under the sun including four IFMAR World Championships, and he's the reigning ROAR Short-Course champion since he won the 2014 ROAR Nationals in short-course truck at Space Coast R/C Raceway in Cocoa, FL. Ryan enjoys racing short course and feels although the trucks are slower, drivers can be more aggressive and the driving style is unique to the class. Jumping a short-course truck can be one of the biggest challenges and his truck has a few tricks including special treatment of the body by making strategic holes in order to improve this. He is also quick to point out that the SC10 series of trucks have been dominant at the ROAR Nationals and this win makes it four in a row. This is in spite of it being one of the only rear-motor short-course trucks in the field. Let's check it out.
Under the Hood
There is a lot of swing weight in the rear end of a short course truck, so Ryan cuts down his SC10's rear bumper and removes the mud flaps to lighten it up. Trimming weight reduces the pendulum effect caused by extra mass at the rear, and makes the truck a bit more agile while still remaining legal.
---
By using the innermost positions to lay down the shocks, Ryan gets more side bite from his SC10. Eagle-eyed readers (and SC10 owners) will note that stock towers only have three holes -- Ryan drilled a fourth hole on each side.
---
Ryan modifies the front tower to accommodate a different body mounting system. This stiffens up the front of the body and helps to position the nose in the most optimum position for more consistent steering.
---
Ryan uses an Airtronics M12 and it's given his signature graphic treatment by UpGrade R/C. The radio is configured for left-handed use and includes a drop-down, slightly smaller wheel and a few degrees of forward angle to match Ryan's personal preference.
---
The truck is outfitted with carbon arms and front top plate. Carbon parts are stiffer and increase the responsiveness of the handling so Ryan uses them when he can.
---
The SC10's chassis is protected by an Upgrade R/C skin with Ryan's personal logo. The skin is made form thick vinyl and is perfectly die-cut to the SC10.2's exact dimensions.
---
In short-course racing, "parachuting" can be a big issue when jumping, so Ryan runs the JConcepts Hi-Flow body. The body has strategic airflow holes to help with this problem and although it takes about an hour of cutting and trimming to achieve perfect results, is worth the work. He also uses four stabilizer wings on the back of the truck to help it track straight at high speeds and in the air. He is careful to make sure everything falls within ROAR's stringent rules and has everything painted up by Dibrino Designs.
---
BATTERY
The Orion Pro WTS pack offers consistent, stable power, but a real benefit is its ability to be a tuning feature by altering is weight bias. Ryan uses one aluminum (22g) and one brass (69g) insert with it toward the rear and uses a foam spacer in front and back of the battery tray. This adds overall weight to the truck to help settle it down, but still keeps the weight a bit more toward the rear for increased traction.
---
TIRES
Every track is different, but for the track as Space Coast R/C Raceway, Ryan chose to run AKA Gridiron tires in soft compound up front with ADA Typos in soft compound for the rear. AKA red inserts are also used and everything is glued up to JConcepts Black Hazard wheels that feature 3mm of offset on the front. This helps the truck transition quicker from side to side to help with its steering.
---
SPEED CONTROL
Ryan won the ROAR Nats with an Orion Vortex R10 Pro Competition speed control. He uses their newest V2.01 software and works with Joe Pillars from Team Orion to tune it for his needs. His settings are pretty standard and it delivers reliable and predictable performance.
---
TURNBUCKLES
Lunsford provides the high-quality titanium screws and turnbuckles for Ryan's vehicles. They have a great strength to weight ratio and add a nice "bling" factor to his truck.
---
SHOCKS
Shocks are one of the most important items on a vehicle and Ryan does a lot of testing to find the setup he likes The truck uses 12mm big-bore shocks with X-Gear gold truck springs, 2 x 1.5mm pistons, three limiter shims and Team Associated 35wt oil for the front and X-Gear gold truck springs, 2 x 1.6mm pistons, 2 limiters shims and Team Associated 30wt oil for the rear.
---
Interview
"I drive aggressive in the corners and on power, so I may have to adjust for that, but I've done it for so long that I usually have a base setup for my cars."
So, what did you do to prepare for the 2014 ROAR Nationals?
After the Surf City Classic I learned a few things while I raced with Ryan Maifield and Jared Tebo. Those are some of the guys I knew I was going to battle with at the Nationals. So I went back after the Surf City Classic and tried a few things I knew I was thinking about and things I didn't get to do at the race. Our truck has been really good and now that Maifield has switched off of our brand, it made me push the limits a little bit more. So I learned a few things and I tried it at the Nationals and I think it worked really well for my setup. I ran a little less anti-squat in the rear end and it made the car react just a little quicker in the corners and gave the rear end a little more grip. I think that made my truck go to the next level at that race. I always learn after I race against the good guys.

Who do you typically work with or do you do it all on your own?
I have a good sense of what I want, and I work a lot by myself and I'll feed off of others like Team Associated's Kody Numedahl and Brent Thielke (Team Manager). I'll hear their ideas and see if I feel the same way. I drive aggressive in the corners and on power, so I may have to adjust for that, but I've done it for so long that I usually have a base setup for my cars.

Was there a planned strategy going in to the ROAR Nationals?
I knew Team Associated has won every ROAR National since it has been racing this class, so I had a little bit of pressure from Brent Thielke and others. It's similar to when we were in the gas truck era. So I took some extra days for more testing. We don't usually test with short course, so I made sure I had everything I would need if I had to adjust anything, and by doing this, I learned a lot about my truck at OCRC. I didn't need to touch my truck the whole entire time I was at the Nationals. I just drove it and concentrated on my driving.

What are your typical steps when you get to a race and put one battery through your car?
I shake it out and try to pick the right tire choice and go from there. The tires are the most important thing along with the body on a short-course truck. The only thing I did once the grip came up was go with a slightly stiffer spring up front. It was getting a bit too much roll on the front end. It balanced the car out a little more and allowed me to go in to the corner a little more aggressive and carry my corner speed. That was really the only thing I did to my truck when I was there. Oh, and I lowered my ride height in the back once the grip came up.

You mentioned that the body is very critical. I noticed you cut out a lot of holes in the body. Are those premarked spots?
Yeah, the JConcepts body has all the markings to cut the spots out. It's something you can't be lazy with. It takes about an hour to fully cut them out properly and have them clean. I cut everything out and it makes a big difference; although we raced the Nationals indoors and there weren't many jumps. It also lightens up the body along with airflow. I see that as a big advantage. I also use the stabilizer wings and these help in places like the sweeper.

If you had to give advice to someone just getting in to racing, what would it be?
Get the right equipment and try and listen to as many people as you can. Get the right stuff, so you won't have to make another purchase later. Make it simple, go out and practice and don't focus on the next guy. Just go out and have fun. If you get to a point where you are running with the pros -- great; but just go out and have fun. You don't have to change out everything on your car right away. Just drive the kit as it is. I see a lot of people buy a lot of knick-knack stuff for their car and it can bite you. When I first started racing, I always ran the same setup. You learn a lot from just driving.
Conclusion
It's great to see top pros like Ryan Cavalieri having so much fun racing short-course trucks. They take a different approach to driving and have become a regular sight in racing at big events. To Ryan, it's still about having fun, and if you've done the work and found a good base setup -- everything else comes easy.

RACE GEAR
Chassis: Team Associated SC10.2
Body: JConcepts Illuzion Hi-Flow SCT
Motor: Orion VST2 Pro Modified 2P 7.5T (stock rotor)
Speed Control: Orion Vortex R10.1 Pro
Battery: Orion Carbon Pro WTS 4000mAh 90C 7.4V
Servo: Airtronics 94931 SRG-BR MG
Tires: AKA Gridiron in Soft (front)/AKA Typos in Soft (rear)
Inserts: AKA Black ribbed
Radio: Airtronics M12
Receiver: Airtonics RX-471 FHSS-4 4-Channel

SPONSORS
Team Associated, Team Orion, AKA, Airtronics, Lunsford, OCRC Raceway, UpGrade R/C, Sidewinder, Kicker, Dibrino Designs, MIP, Makita
---