Team Associated/Reedy Locks Down Rivkin
Tuesday, Dec 30, 2014 at 12:00am CST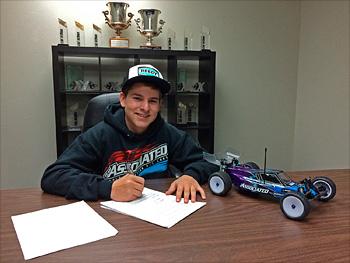 Team Associated and Reedy are pleased to announce that they have signed 2014 break-out star Spencer Rivkin to a multi-year agreement that will keep him with the team for years to come.

Rivkin has been on an upward trend since his first major win at the Cactus Classic back in 2013. The now 16-year-old Arizona driver has racked up two ROAR Stock National Championships, a 4WD Open title at the Reedy International Off-Road Race of Champions, and countless podiums at Nationals-level events.

When asked about signing Rivkin, Team Manager Brent Thielke said, "Spencer has the raw speed and dedication required to go far in this sport. All of us at Team Associated and Reedy look forward to working with him for many years to come."

Rivkin will be representing the full line of Team Associated and Reedy products and will be concentrating on 1:10 and 1:8 off-road. With an assortment of events scheduled, look for Rivkin's purple and blue cars at a race track near you.
---