Team Associated Looking to Defend 2015 Series Titles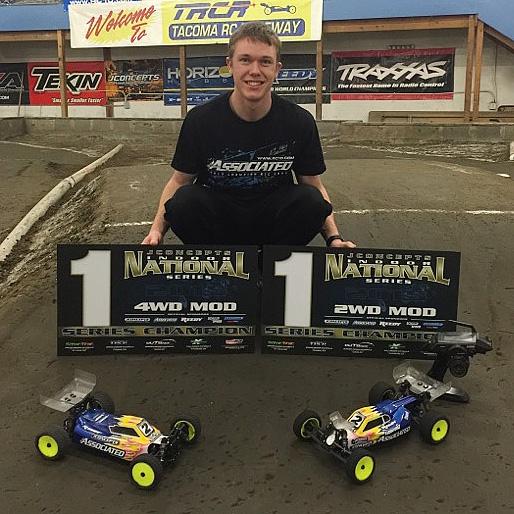 The JConcepts Indoor National Series travels around the U.S. in a five-stop series with individual winners crowned at each event. The overall series champion is determined by the best three results of the entire series. In the 2015 series, Team Associated/Reedy drivers Michael Schoettler, Spencer Rivkin, Ayden Horne, and Allen Horne all won overall championships for their classes.
The prestigious 2WD and 4WD Modified classes were won by Pacific Northwest native Michael Schoettler with his B5M and B44.3 using the full line of Reedy products, including the Blackbox 410R speed control, Sonic M3 line of motors, and Reedy servos and batteries. Additionally, Spencer Rivkin used the same Reedy products in his T5M to claim the 2WD Modified Truck championship. Also, the father/son team of Allen and Ayden Horne won 40+ 2WD Modified Buggy and 2WD 17.5 Stock Buggy, respectively, with their Reedy-powered B5M vehicles.
This next weekend kicks off the 2016 series that will continue to be supported by Team Associated and Reedy with drivers from around the country looking to challenge their individual and series titles. Stay tuned to Team Associated for updates from each of the five rounds.
Vehicles used
#90000 RC10B5M Factory Lite
#90002RC10B5M Champions Edition
#70001 RC10T5M Team Kit
#9063 Factory Team B44.3
Reedy Products used
#27000 Blackbox 410R 1S-2S Competition ESC
#262 Reedy Sonic 540-M3 Motor 6.5 Modified
#260 Reedy Sonic 540-M3 Motor 7.5 Modified
#254 Reedy Sonic 540-M3 Motor 17.5 Spec
#27100 Reedy RS1206 Digital HV Hi-Speed Competition Servo
#27101 RT1508 Digital HV Hi-Torque Competition Servo
#27200 Reedy 1216-C2 Dual AC/DC Competition Balance Charger
Team Associated - Champions by Design
---