2018 Reedy International Off-Road Race of Champions Announced
Wednesday, Aug 30, 2017 at 12:00am CDT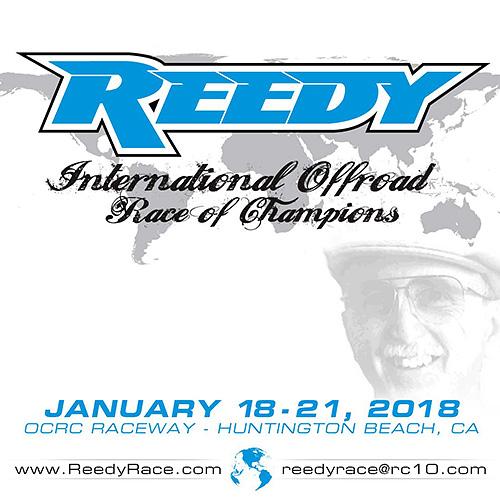 Reedy is pleased to announce that the 2018 Reedy International Off-Road Race of Champions will continue for a record-setting fifth consecutive year at OCRC Raceway in Huntington Beach, CA from January 18-21, 2018.
With four epic years of hosting the Reedy Race, OCRC remains the "Home of the Reedy Race." On many racer's "Bucket List," the atmosphere and intensity of the race draws spectators and fans in from around the world, even if it's just to watch and be a part of the most exciting event of the year.
In 2017, Ryan Cavalieri won an unprecedented fourth Invitational title, while Team Associated's very own Brent Thielke achieved a 20-year goal of winning the 2WD Open class and break-out newcomer Broc Champlin took the victory in 4WD Open. All three racers will be back to compete in the Invitational class and look to become the 24th name etched on the Mike Reedy Heritage Trophy.
Entries for the 2018 Reedy International Off-Road Race of Champions open on September 1, 2017 at noon, PST exclusively on www.rcsignup.com and close September 30, 2017 at midnight, PST. The lottery drawing for the Open class will be conducted on October 2, 2017. As in previous years, the event features its traditional 2WD Open and 4WD Open classes along with the combined 2WD/4WD Invitational format.
Drivers who are qualified for the Invitational class will be listed here. As always, only the top 30 qualified drivers will be selected to compete in the ultra-competitive Invitational class; however, all qualified drivers are guaranteed a position in the Open class.
Stay tuned to www.reedyrace.com for more information and event updates. Inquiries regarding the event should be directed to reedyrace@rc10.com
---