Factory Team RC10R5 Kit - Back for a Limited Time!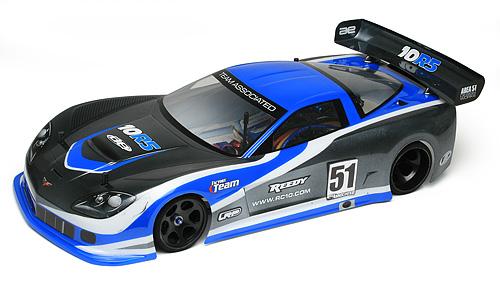 Designed to fit World GT racing class specs
Wide rear pod is balance-optimized for brushless motors and features Factory Team blue aluminum machined motor mount and left bulkhead
Factory Team pivot ball-link chassis allows for independent adjustment for roll, bump, and alignment
The pivot ball-link chassis has proven to be more durable in high speed impacts and better in bumpy track conditions
Factory Team shocks feature a through-shaft design, making for equal damping with no rebound in both directions
Updated active strut front end features symmetric components with adjustable caster and track width, as well as a new front axle with wheel nut
Woven carbon fiber center shock tower allows for incremental adjustments of rear spring rate
2.5mm woven carbon fiber chassis
Full ball bearing
Ball differential
Foam front bumper helps protect body and chassis during impact
Servo mounts flat for a lower CG and includes Ackermann adjustment spacers
"Compared with cars in other classes, the 10R5 handled the track like a limousine and was totally planted. With my basic stock setup, the 10R5 handled tight turns with ease while retaining plenty of speed. Down the straight, the LRP powerplant launched the car controllably. I was totally blown away by the car's out-of-the-box performance. It definitely surpassed my expectations." --RC Driver, May 2010
Limited Quantity Available!
#8020
Factory Team RC10R5 Kit
MSRP: $429.99
UPC: 784695 080201
Available May 2011
Please click for full vehicle details, including complete feature list, specs, more photos, and items required for operation.
---