NEW! Reedy 4600mAh 55C 14.8V Competition LiPo Battery!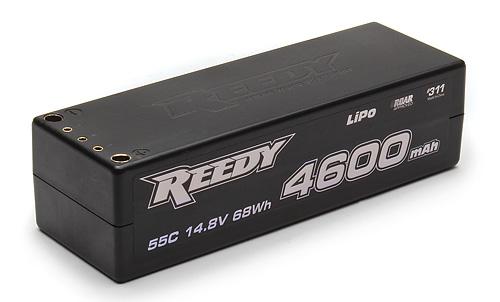 Tested and developed by the championship-winning factory team drivers, Reedy's innovative 4600mAh 55C 14.8V LiPo battery is a must-have for the hardcore 1:8 buggy racer who seeks maximum power output and run time in a compact package.
The battery's weight makes it easier to achieve perfect left/right weight distribution while 5mm power sockets offer the same convenience and low-resistance operation that 1:10 and 1:12 drivers have enjoyed for years.
A durable hard case protects the battery from damage while three 2mm balance ports allow for balance charging using the included balance charge harness. Two 5mm sockets are also included.
LiPo battery technology continues to progress and Reedy is proud to bring improved performance to the masses.
Capacity: 4600mAh
Voltage: 14.8V (4S)
Dimensions (mm): 138.5 x 46.0 x 38.2
Max. Charge Current: 9.2A (2C)
Discharge: 55C cont., 120C burst
Weight: 449g
Meets R.O.A.R. specifications
#311
Reedy LiPo 4600mAh 14.8V 55C
Available: June 2013
UPC: 784695 003118
#668
4S Balance Charge Harness
UPC: 784695 006683
Available: June 2013
#669
5mm Bullet Plug (pr.)
UPC: 784695 006690
Available: June 2013
---