Parts for the #6001 RC10 Classic Buggy!
Tuesday, Jul 16, 2013 at 12:00am CDT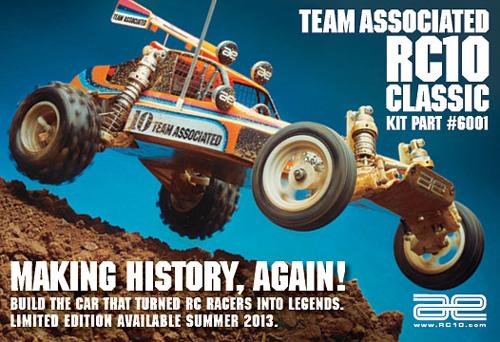 Here are the upcoming parts for the RC10 Classic, with UPC, part number, and part name.
Please click on the link at bottom for full vehicle details, including complete feature list, specs, more photos, and items required for operation.
| | | |
| --- | --- | --- |
| UPC | Part # | Description |
| 784695 061804 | 6180 | RC10 Driver, clear |
| 784695 061842 | 6184 | RC10 Wing, clear |
| 784695 061910 | 6191 | Wing Mount Kit |
| 784695 061927 | 6192 | RC10 Accessories |
| 784695 062054 | 6205 | RC10 Front Arms |
| 784695 062085 | 6208 | RC10 Front Arm Mounts |
| 784695 062139 | 6213 | RC10 Front Caster Blocks |
| 784695 062160 | 6216 | RC10 Steering Blocks |
| 784695 062191 | 6219 | RC10 Front Stub Axles |
| 784695 062238 | 6223 | RC10 King Pin |
| 784695 062245 | 6224 | Lower Shock Pin |
| 784695 062269 | 6226 | RC10 Front Inner Hinge Pin |
| 784695 062306 | 6230 | RC10 Front Shock Tower |
| 784695 062559 | 6255 | RC10 Steering Assembly |
| 784695 062566 | 6256 | RC10 Tie Rod Set |
| 784695 062795 | 6279 | White Ball Cups |
| 784695 062825 | 6282 | 8-32 Nut, white |
| 784695 063006 | 6300 | RC10 Chassis |
| 784695 063105 | 6310 | RC10 Front Nose Plate |
| 784695 063204 | 6320 | RC10 Nose Brace Tubes |
| 784695 063235 | 6323 | RC10 Rear Bulkhead |
| 784695 063266 | 6326 | RC10 Transmission Brace |
| 784695 063273 | 6327 | RC10 Wing Tubes |
| 784695 063310 | 6331 | RC10 Body Mounts, white |
| 784695 063334 | 6333 | RC10 Battery Cup |
| 784695 063372 | 6337 | RC10 Servo/Antenna Mount |
| 784695 063556 | 6355 | RC10 Rear Arms |
| 784695 063600 | 6360 | RC10 Rear Arm Mounts |
| 784695 063655 | 6365 | RC10 Rear Hub Carriers |
| 784695 063785 | 6378 | RC10 Rear Shock Tower |
| 784695 063808 | 6380 | RC10 Rear Inner Hinge Pin |
| 784695 064461 | 6446 | Shock Body, rear, 1.32" |
| 784695 064492 | 6449 | Shock Body, front, .56" |
| 784695 064508 | 6450 | RC10 Shock Cap |
| 784695 064515 | 6451 | RC10 Shock Accessories |
| 784695 064683 | 6468 | RC10 Shock Rod Ends |
| 784695 066045 | 6604 | RC10 Transmission Fasteners |
| 784695 066052 | 6605 | RC10 Transmission Case |
| 784695 066076 | 6607 | RC10 Motor Plate |
| 784695 066083 | 6608 | Gear Dust Cover |
| 784695 066090 | 6609 | RC10 Drive Gear Pivot |
| 784695 066106 | 6610 | RC10 Idler Gear Pivot |
| 784695 066113 | 6611 | RC10 Spine Plate |
| 784695 066120 | 6612 | RC10 Axle Drive Gear |
| 784695 066137 | 6613 | RC10 Idler Gears |
| 784695 066175 | 6617 | RC10 Diff Tube with Hub |
| 784695 066182 | 6618 | RC10 Diff Shaft and Pinion |
| 784695 066236 | 6623 | RC10 Diff PTFE Bushing |
| 784695 066243 | 6624 | RC10 Diff Outer Hub |
| 784695 066274 | 6627 | RC10 Diff Thrust Bearing |
| 784695 066281 | 6628 | RC10 Diff Spring |
| 784695 066304 | 6630 | RC10 Oilite Bushing Set |
| 784695 066335 | 6633 | RC10 Felt Seal Set |
| 784695 066342 | 6634 | RC10 81 Tooth Spur Gear, 48 Pitch |
| 784695 068001 | 6800 | RC10 Rear Wheels, 3-piece |
| 784695 068155 | 6815 | RC10 Champion Rear Tires |
| 784695 068506 | 6850 | RC10 Front Wheels, 3-piece |
| 784695 068650 | 6865 | RC10 Edge Front Tires |
| 784695 068667 | 6866 | RC10 Classic Decal Sheet |
---