NEW! Reedy WolfPack 5500mAh 60C 7.4V LiPo Battery!
Tuesday, Jul 23, 2013 at 12:00am CDT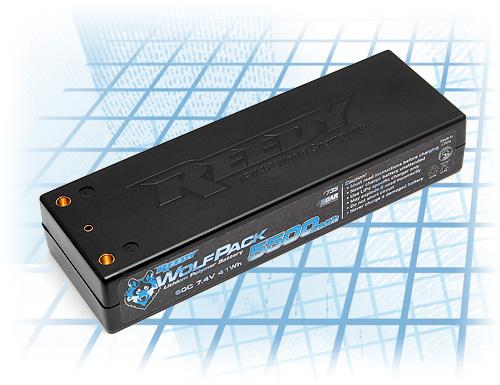 Reedy's WolfPack LiPo batteries meet the performance demands of both the casual enthusiast and the club racer. Generous discharge capabilities increase overall power and top speed while high capacities extend run times far beyond what is capable with NiMH batteries or lower-quality LiPo batteries.
Each battery features Reedy's molded hard case for maximum crash protection in sizes that fit the most popular car configurations. High quality cell manufacturing and construction techniques result in reliable operation and maximum cycle-life.
Reedy's new WolfPack 5500mAh 60C 7.4V LiPo battery features race-level specifications with a budget-friendly price. In fact, this battery's specifications are comparable to those of the race-winning #628 battery that was the favorite choice of the Reedy factory racing team. Low-resistance competition-style 4mm sockets and ROAR approval round out the features.
Install the WolfPack today and let your car howwwwl!
High capacity for extended run times
Generous discharge rating increases power and speed
Durable hard case for increased crash protection
Low-resistance 4mm sockets
Value priced
ROAR approved
Specifications:
Capacity: 5500mAh
Voltage: 7.4V (2S)
Dimensions (mm): 139 x 47 x 25.1
Max. Charge Current: 11.0 (2C)
Max. Cont. Discharge Current: 60C (330A)
Burst Discharge Current: 80C (440A)
Weight: 301g
#739
WolfPack 5500mAh 7.4V 60C
Available: In Stock
UPC: 784695 007390
---