RC10 Classic Kit
Thursday, Jul 25, 2013 at 12:00am CDT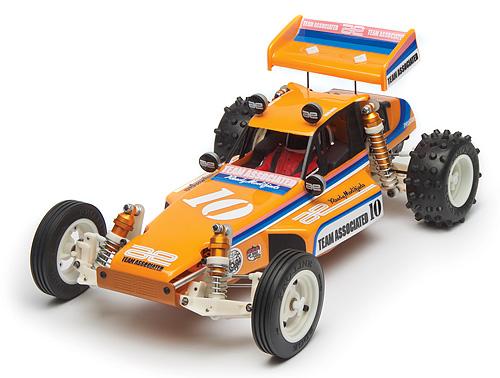 Race-winning design and performance. The RC10 started as the vision of Team Associated's founder Roger Curtis ("RC") and became one of the most iconic RC cars in history.
In celebration of the 30th anniversary of the original RC10 we are proud to bring to you the RC10 Classic Kit, a faithful reproduction of Roger's world championship-winning design that changed the world of RC off-road racing forever.
The design and construction of the RC10 is totally unique to electric off-road cars, featuring a rigid alloy monocoque tub with fully adjustable suspension. Included are Associated's custom coil-over aluminum racing shocks, VariLok differential, and modular 3-piece clamping wheels.
Engineered for easy assembly and maintenance, the RC10 is also easy to drive over all kinds of terrain. The rugged nylon suspension and alloy tub are tough enough to handle bumps and crashes of beginners as well as intense wheel-to-wheel action.
So buckle up and go off-road racing with the Team. The Associated RC10 is ready to take on the competition.

The team that does it in the dirt.
Race the car that changed RC off-road racing forever.
The All-American designed Associated RC10 was the first to take home the gold in both the ROAR National and IFMAR World Championships.
The RC10 Classic has the same race car technology that has kept Team Associated on top of the RC car racing world over 40 years.

A race car, not a toy.Sure, you've heard that before. But Team Associated designs and engineers model RACE cars.
The new RC10 Classic features fully adjustable four-wheel independent suspension, an aluminum alloy monocoque tub, and race-proven hardware throughout. Strength and durability are standard equipment.

Race-winning engineering.
For maximum traction, the RC10 Classic's suspension is damped by long-throw, fluid-filled racing shocks using machined alloy cylinders and precision-ground shafts for silky smooth action.
Rugged, yet light, the suspension gives you all the adjustability of full-size race buggies. The A-arm/ball joint design allows precise camber, caster, ride height, and spring rate tuning. Even the adjustable VariLok differential is included. The updated chassis fits 6-cell NiMh and 2S LiPo battery packs.
Exceptional ground clearance and low center of gravity also contribute to the superb balance and performance of the RC10 Classic over all types of terrain.

Get the jump on the competition.
Go RC off-road racing with the leaders. Complete RC10 Classic kits, replacement parts and spares will be available through model car racing's most extensive dealer network. Take the challenge and build yourself a winner, Team Associated's RC10 Classic.
Please click on the following link for full vehicle details, including complete feature list, specs, more photos, and items required for operation.
---