Available on RC10.com: C4.2 Conversion Kit for the RC10B4.2 Buggy!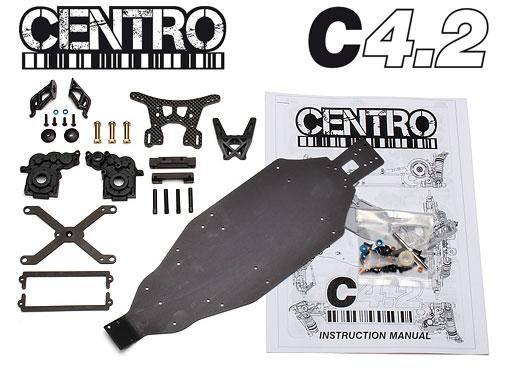 The Centro C4.2 Mid Motor Conversion kit for the B4.2 is now available for pre-order on RC10.com!
Designed specifically for very high-traction surfaces, the Centro C4.2 Mid Motor conversion for the B4.2 features a hard aluminum one-piece chassis, and an all-new molded gearbox and bulkhead assembly that positions the motor in front of the rear wheel centerline, creating a centralized weight balance.
Additional tuning possibilities are available with Centro's range of optional accessories, including front bulkhead brass weights, front brace, and carbon chassis side stiffeners.
Visit http://www.TeamAssociated.com/C4.2/ to order!
C4.2 Conversion Contains:
Hard CNC Aluminum Chassis
CNC Aluminum Rear Suspension mounts with inserts
Aluminum Battery X-Brace
Aluminum Lipo Battery holders
Molded Gearbox casing
Molded Rear Bulkhead
Idler gear, pivot and bearings
Carbon rear shock tower and body mount
Centre chassis tie-rod brace
Front Chassis Brass Posts
Aluminum battery posts
Wing mounts
Ball Studs
Various hardware
Pro-Line Bulldog C4.2 body and wing
---