NEW! Replay XD Prime X Camera System
Thursday, Oct 2, 2014 at 12:00am CDT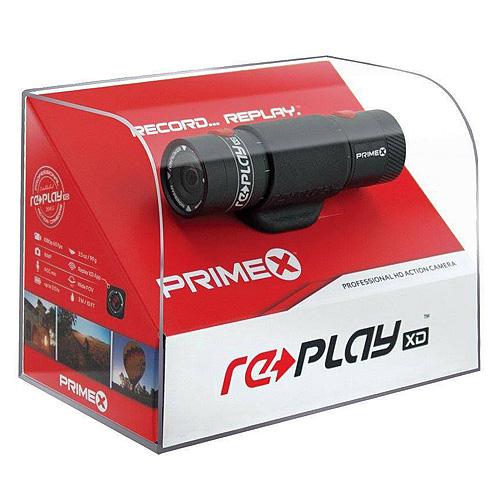 Introducing the all new completely reimagined PRIME X
Don't miss the video below!
Professional Grade
Custom Hyperion designed, 145° wide angle, T2.8 lens, with cinema-grade anti-glare coating, this lens is finely tuned to match an all-new 1/2.3 in., 16MP CMOS sensor, for tack sharp, high-framerate HD video, and large still images.
New High Speed 1/2.3 in., 16MP CMOS Sensor
Hyperion 145° Natural Wide Angle Lens
New Flush Lens Cover
Supercharged
We shoehorned a higher capacity 1700mAh battery into the Prime X. Compared to the Replay XD1080, battery life has more than doubled to an outstanding 3.5 hours on a single charge.
1700mAh Battery, 3.5 Hour Battery Life
RePower Battery Packs & HW Kit Compatibility
Rapid Charge Feature, Charge 2x Faster
Even Lower Profile
We've made important and subtle refinements that improve the already easy to use Replay XD cameras. Every detail, down to the button, has been re-imagined to make Prime X even more intuitive and even easier to use.
New Power Level & Record LED Indicators
New Wider Buttons, including New FOV Setting
Same Renowned Vibration Feedback
Waterproof
The Prime X is waterproof up to 3 meters / 10 feet. No need for a separate waterproof case. Watertight O-ring seals are used throughout the advanced aluminum housing to ensure water and other elements stay out while you record.
Waterproof to 3 Meters / 10 Feet
New Sealed Bezel and Flat Rear Cap
Sealed Anodized Aluminum Housing
WiFi + Replay XD App
Replay XD Prime X is configurable from both the Replay XD iOS / Android app thanks to WiFi and the Advanced Settings file (written to SD card). This allows you to enable more pro features to fine-tune the image and extra features.
Mount It Anywhere
No other camera on the market except Replay XD gives you over 1 million mounting positions right out of the box.
Ultra-low Profile Mounts
360° In-place Lens Rotation
360° Camera Rotation
More accessory mounts than anyone else - including pro aluminum and hybrid mounts
Quick Specifications*
VIDEO
1080p
720p
960P, 480P and more
60/50/48/30/25/24fps
120/60/50/30/25 fps
h.264, .MOV
PHOTO
16MP
Manual Shutter
Time-lapse 1-60 sec
POWER
3.5hr
Rechargeable Li-ion
DIMENSIONS
30mm x 98mm
1.1 in. x 3.8 in.
OPTICS
T2.8
Wide Angle 145° FOV
AUDIO
Internal AGC Mic
3.5mm Line-in with Adapter
MEMORY
microSDXC
up to 64GB
CONNECTION
USB 2.0
Charge & sync
COMPATIBILITY
Windows
Mac OS X
7 & newer
10.7 & newer
WATERPROOF
up to 3 meters / 10 ft.
WIFI
WIFI Enabled. Advanced Settings App.
Included in the Box
Replay XD Prime X, HeimLock Mount, LowBoy Mount, SnapTray Mount Bases, Mini USB Charge Cable; 4GB microSDHC, Nylon Ballistic Case, Silk Camera Bag, Replay SC Decals, User Guide, and more*.
* Specifications and accessories are subject to change.
#RP005
Replay XD Prime X Camera System
UPC: 784695 988316

#RP055
Replay XD Prime X Clear Lens Set, 5pcs.
UPC: 784695 988309

#RP056
Replay XD Prime X HDMI Cable
UPC: 784695 988293

#RP057
Replay XD Prime X Waterproof Case
UPC: 784695 988286

#RP058
Replay XD Prime X Hiem Lock Mount
UPC: 784695 988279

#RP059
Replay XD Prime X LowBoy Mount
UPC: 784695 988262

#RP060
Replay XD Prime X Tilt Mount
UPC: 784695 988255
---
Videos
---