CT4.2 Mid Motor Conversion Kit for the RC10T4.2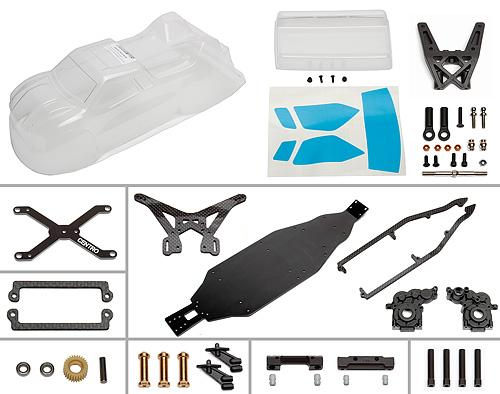 RC10.com Exclusive -- Quantities Limited
Now only $199.00

The Centro CT4.2 Mid Motor Conversion Kit for the T4.2 is now available on RC10.com!

Designed specifically for very high-traction surfaces, the Centro CT4.2 Mid Motor conversion for the T4.2 features a hard aluminum one-piece chassis, and molded gearbox and bulkhead assembly that positions the motor in front of the rear wheel centerline, creating a centralized weight balance.

Additional tuning possibilities are available with Centro's range of optional accessories, including front bulkhead brass weights, front bulkhead brace, and carbon-fibercross brace.




#C0100 CT4.2 Conversion Kit Contains
Hard CNC Aluminum Chassis
Long and Short Chassis Posts
Aluminum Battery Cross Brace
Molded Gearbox
Woven Carbon-fiber Rear Shock Tower
Woven Carbon-fiber Chassis Side Braces Aluminum Front Hinge Pin Brace
Aluminum Rear Hinge Pin Brace
LiPo Battery Posts
Center Brace Turnbuckle
Woven Carbon-fiber LiPo Chassis Holders with side braces
Molded Rear Body Mounts
Decal Sheet
CT4.2 clear body by JConcepts
#C0100 CT4.2 Conversion Kit

Spare Parts

#C0040 C4.2/CT4.2 Brass Front Chassis Posts
#C0066 C4.2/CT4.2 Aluminium Battery X Brace
#C0067 C4.2/CT4.2 Gearbox
#C0068 C4.2/CT4.2 Bulkhead
#C0071 C4.2/CT4.2 Aluminum Front Hinge Pin Brace
#C0072 C4.2/CT4.2 Aluminium Rear Hinge Pin Brace
#C0074 C4.2/CT4.2 Lipo Battery Posts
#C0075 C4.2/CT4.2 Centre Brace Turnbuckle, 50mm
#C0090 C4.2/CT4.2 Front Short Chassis Brace
#C0105 CT4.2 Hard Aluminum Chassis
#C0106 CT4.2 Carbon Rear Shock Tower
#C0107 CT4.2 Carbon LiPo Holders
#C0108 CT4.2 Carbon Chassis Side Braces
#C0109 CT4.2 Logo Decal Sheet
#C0111 CT4.2 Rear Body Mounts (pr)

Option Parts

#C0032 C4.2/CT4.2 Brass 30g Front Bulkhead (use with C0033/34)
#C0033 C4.2/CT4.2 Brass 18g Front Bulkhead Brace (use with C0032)
#C0034 C4.2/CT4.2 Delrin® Front Bulkhead Brace (use with C0032)
#C0035 C4.2/CT4.2 Brass 15g Weight
#C0036 C4.2/CT4.2 Brass 10g Weight
#C0037 C4.2/CT4.2 Brass 5g Weight
#C0039 C4.2/CT4.2 Brass 10g Under-bellcrank Weight
#C0086 C4.2/CT4.2 Carbon X Brace
#C0088 C4.2/CT4.2 Aluminum Rear Hinge Pin 2.5° Brace
#C0089 C4.2/CT4.2 Aluminum Rear Bulkhead

Sample batteries that fit
---