NEW! RC8B3e Team Kit
Tuesday, Aug 18, 2015 at 12:00am CDT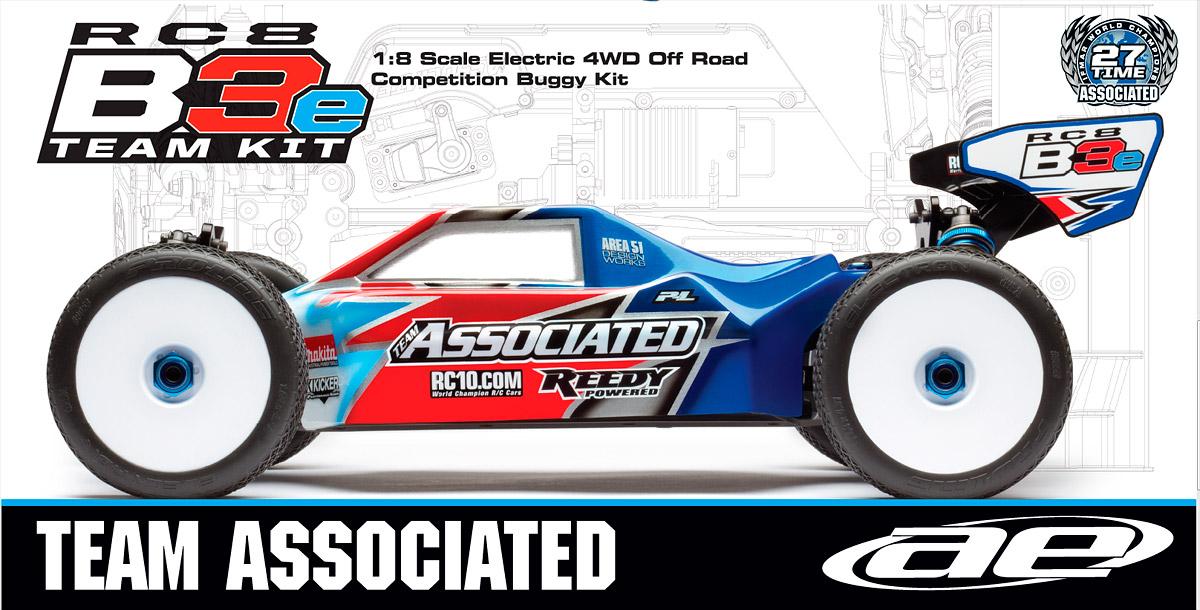 1:8 Scale Electric 4WD Off Road Competition Buggy Kit

Team Associated has taken the performance engineering developed for the RC8B3 nitro buggy and used the data to create our new brushless-powered version, the RC8B3e Team Kit!

Answering the need of the fastest-growing 1:8 scale racing class, the RC8B3e Team Kit was designed specifically for brushless power. Using a unique, proprietary hard-anodized 7075-T6 aluminum chassis ingeniously designed for optimum weight distribution and superior handling, the RC8B3e drives like a champ.

Cross-class chassis compatibility. Knowing that racers would be competing in both 1:8 nitro and electric at the same events, the RC8B3e was designed to handle and respond to changes just like the RC8B3. This similar handling characteristic gives the racer a huge advantage, as tuning changes can be applied to both buggies seamlessly.

Designed to handle, built to win. The RC8B3e Team Kit was designed to give the dedicated electric 1:8 racer the highest level of performance that will help take your racing program to the next level.

RC8B3e Team Kit #80916 Features:
7075-T6 hard anodized aluminum chassis features an optimized weight bias layout for improved handling and stability
Front suspension features pillow ball uprights for increased adjustability and improved durability
Lightweight ring gears and optimized precision ball bearing sizing reduces drivetrain rotational mass for improved acceleration and battery efficiency
Gearboxes feature a 3.38:1 internal gear ratio with fast-access differentials for quick removal, tuning, and maintenance
Six universal drive shafts for efficient drivetrain power delivery and ease of maintenance
7075-T6 aluminum 16mm Big Bore threaded shocks with TiN coated 3.5mm shafts, larger diameter precision springs, and optimized bladders for more precise volume compensation
7075-T6 aluminum shock towers front and rear feature finely tuned shock mounting and upper arm positions
Refined suspension geometry with lower hinge pin inserts for quick and easy roll center adjustments
Lightweight one-piece wing mounts feature height and forward positioning adjustment for more precise handling
Two-piece sliding motor mount for easy gear mesh adjustment and motor removal
Pro-Line RC8B3e clear body and Team Associated molded wing included
The RC8B3e shares over 90% parts compatibility with the RC8B3 nitro buggy, offering the perfect solution for multi-class racers
RC8B3e Team Kit
UPC: 784695 809161
Available: Oct. 2015
RC8B3 Team Kit shown in these photos is equipped with items NOT included in kit: engine, exhaust system, receiver battery, Reedy servos, wheels and tires. Body comes clear. Assembly and painting required.
Please click for full vehicle details, including complete feature list, specs, more photos, and items required for operation.
---