New! Factory Team Aluminum Servo Horns
Monday, Mar 21, 2016 at 12:00am CDT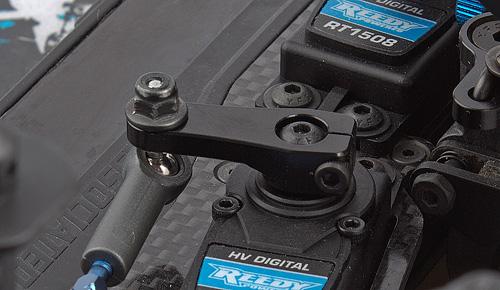 Designed for the steering servo in the RC8B3, RC8B3e, RC8T3, and RC8T3e. These new machined aluminum servo horns are stronger than the stock plastic ones that come with most servos and due to the slightly shorter length, they provide a smoother steering feel while decreasing the load on the servo.
Features
7075 T6 aluminum
Clamping style with large m2.5 screw
Length 18.5mm for smoother steering response and less stress on the servo
Laser etched spline size
Fits
23T fits Airtronics, JR, KO, and Spektrum servos
25T fits XP Digital, Reedy, Futaba, Savox, and newer-style Hitec servos
#1361
FT Aluminum Servo Horn 23T, 18.5mm
UPC: 784695 013612
Available April 2016
#1363
FT Aluminum Servo Horn 25T, 18.5mm
UPC: 784695 013636
Available April 2016
Airtronics is a trademark of Airtronics. Futaba is a trademark of Futaba RC. Hitec is a trademark of Hitec RCD. JR PROPO is a trademark of Japan Remote Control Co., Ltd. KO PROPO is a trademark of Kondo Kagaku Co., Ltd. Savox is a trademark of Savox. Spektrum is a registered trademark of Horizon Hobby, Inc.
---