NEW! RC10B6.1 Team Kit
Thursday, Feb 8, 2018 at 12:00am CST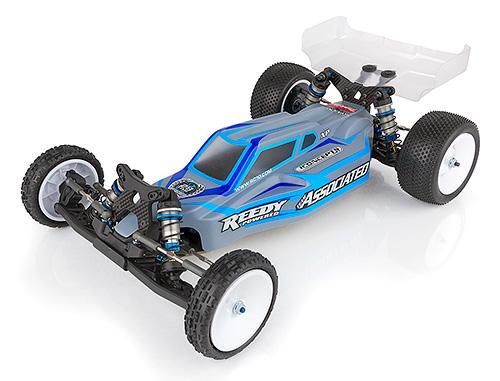 Champions by design. 1:10 scale 2WD off road has been Team Associated's signature class since the release of the RC10 in 1984. The Team Associated RC10 buggy series has won 12 of the 17 I.F.M.A.R. World Championships contested since the racing class began. In fact, Team Associated has won more 2WD I.F.M.A.R World Championships than all other manufacturers combined!
The engineering continues. The B6 platform introduced the use of two separate chassis configurations -- the B6.1 continues this theme. The B6.1 will be the choice for tracks with very high traction, where a forward mass is beneficial and chassis roll needs to be tamed through a low center of gravity and anti-roll bars. The B6.1D now has an all-new Lay Back Stealth(r) transmission that gives the car additional traction when exiting the corners. The addition of +1 Ackermann plates and gull wing suspension arms tune the steering for razor-sharp feel and control. Both cars have new features, including an easy-access differential, diff height adjustability, and an all-new slipper assembly, while the setups and tuning parts remain interchangeable between the two configurations. Both versions come with the speed, durability and lineage expected of a true champion. Choose the configuration that suits your track and conquer the competition!
Features
Easy-access gear differential
Differential height adjustment with 0, 1, 2, and 3mm inserts included
New slipper assembly for better weight balance and shock clearance
3-gear Laydown Stealth(r) transmission for lower and forward CG
Heavy-duty V2 routed graphite front shock tower with tower guard
Heavy-duty V2 routed graphite rear tower, standard height
Heavy-duty V2 rear axle with 67mm bones
V2 springs for a more reactive and nimble feel
Innovative rear arm with molded inserts for ultra-fine lower shock mount adjustment
Molded spur gear guard to help protect body from damage
Front and rear anti-roll bars limit chassis roll for increased corner speed
Battery strap allows the use of optional turnbuckle-based braces
Machined pistons included for better fit and smoother operation>
Aluminum rear clamping hex and front axle with laser etching
Rear hubs feature large bearings and the easy-insert system to adjust camber link position and rear axle height
One-piece shock bushing to make assembly easier
Aluminum C and D arm mounts included for large range of anti-squat and toe adjustment
Lightweight aluminum top shaft
Factory Team upgraded ball bearing kit included (now oiled instead of greased for less drag)
JConcepts(r) B6 clear body and wing included
Steel chassis weight
Shortened, 7075 aluminum chassis
#90020
RC10B6.1 Team Kit
UPC: 784695 900202
Available March 2018
Please click above for full vehicle details, including complete feature list, specs, more photos, and items required for operation.
Due to ongoing R&D, photos may not match final kit. Vehicle shown on these pages equipped with items NOT included in kit: Reedy #27402 motor, #27322 battery, #27004 ESC, #27101 servo, receiver, wheels, tires, and pinion gear. Assembly and painting required.
Specifications:
| | |
| --- | --- |
| Power Source: | Electric |
| Terrain: | Off-Road |
| Body Style: | Buggy |
| Scale Size: | 1:10 Scale |
| Assembly Level: | Kit* |
| Length: | Varies |
| Width: | Varies |
| Wheelbase: | 277-279mm (10.91-10.98") |
| Weight: | Varies |
| Internal Gear Ratio: | 2.6:1 |
| Drive: | 2WD |
Final length, width and weight will vary with the actual electronics and tires used to complete the RC10B6.1 Team Kit.
---