New! RC10B6.1 Factory Lite Kit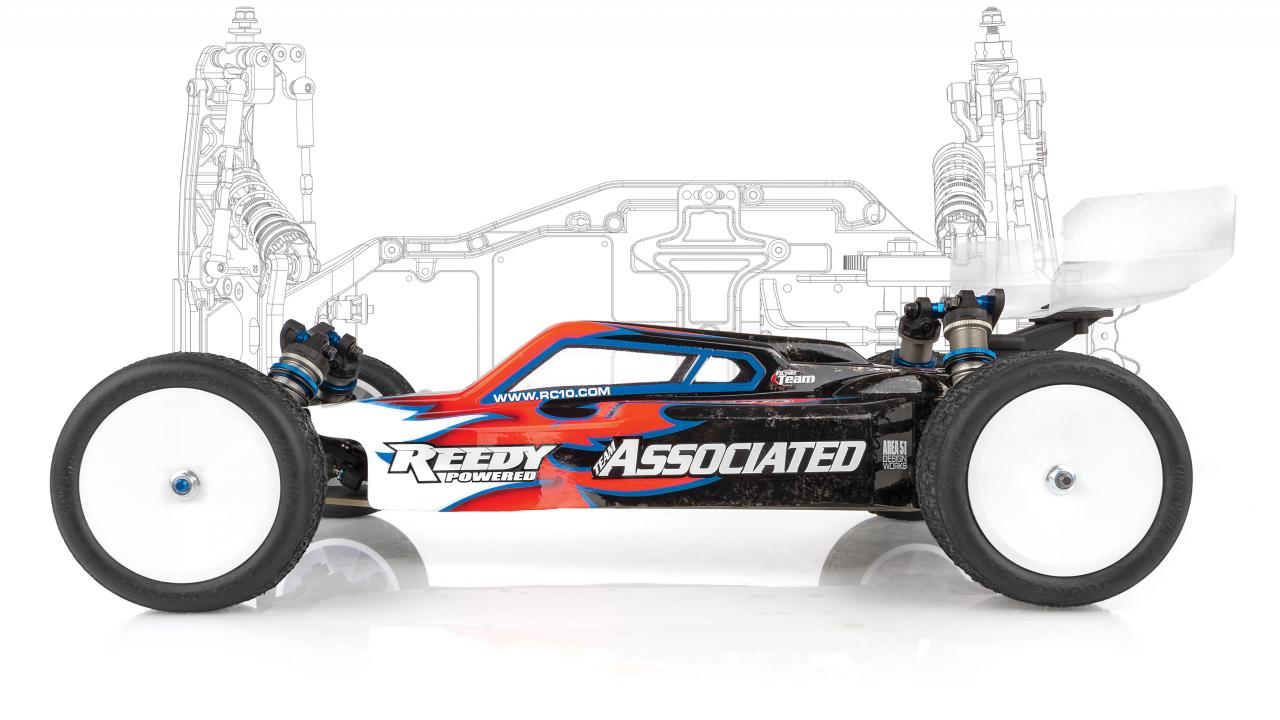 Champions by design. 1:10 scale 2WD off road has been Team Associated's signature class since the release of the RC10 in 1984. The Team Associated RC10 buggy series has won 12 of the 17 I.F.M.A.R. World Championships contested since the racing class began. In fact, Team Associated has won more 2WD I.F.M.A.R World Championships than all other manufacturers combined!
The engineering continues. Team Associated's RC10B6.1 has been met with wild success by racers across the globe. As good as that may be, the engineers of Team Associated's Area 51 became aware of the advantages that could be gained in certain track conditions by racing a lighter-weight B6.1.
Enter the RC10B6.1 Factory Lite. Shedding over 45 grams of weight from the original B6.1D, the Factory Lite was designed to excel in classes requiring Spec motors, allowing the racer to take full advantage of the performance offered by the reduced weight. The Factory Lite sheds 30 of the 45 grams in rotational mass alone.
Parts used to achieve the weight savings include the MIP Pucks(TM) system, MIP Pucks(TM) 7075-T6 aluminum outdrives, MIP Pucks(TM) Bi-Metal(TM) lightweight R-CVD bones (67mm), Factory Team direct drive system, and a lightweight body.
Features
Direct drive system for reduced weight and better acceleration
MIP Pucks(TM) 7075-T6 aluminum outdrives
MIP Pucks(TM) Bi-Metal(TM) lightweight R-CVD bones, 67mm
Adjustable diff height can be matched to various ride heights
Machined pistons included for better fit and smoother operation
V2 springs for a more reactive and nimble feel
One-piece shock bushings make assembly easier
Molded spur gear guard protects body from damage
3-gear Laydown Stealth(R) transmission for lower and forward CG
Innovative rear arm with molded inserts for ultra-fine lower shock mount adjustment
Lightweight aluminum top shaft
Aluminum 5.0mm front axle with adjustable height
Aluminum 7.0mm rear clamping hex with laser etching
Aluminum C and D arm mounts included for a large range of anti-squat and toe adjustment
Heavy-duty V2 routed graphite front shock tower with tower guard
Factory Team upgraded ball bearing kit included (now oiled instead of greased for less drag)
Rear hubs feature large bearings and the easy-insert system to adjust camber link position and rear axle height
JConcepts(TM) lightweight B6 clear body and wing included
#90022
RC10B6.1 Factory Lite
UPC: 784695 900226
Available late Sept. 2018
Products used by the 2018 17.5 2WD Buggy ROAR National Champion
Please click for full vehicle details, including complete feature list, specs, more photos, and items required for operation.
Due to ongoing R&D, photos may not match final kit. Vehicle shown on these pages equipped with items NOT included in kit: Reedy motor, battery, ESC, servo, receiver, wheels, tires, and pinion gear. Assembly and painting required.
MIP Pucks Bi-Metal is a trademark of Moore's Ideal Products LLC
---