New! Reedy Radon 2 Brushed 5-Slot Crawler Motors
Wednesday, Mar 13, 2019 at 12:00am CDT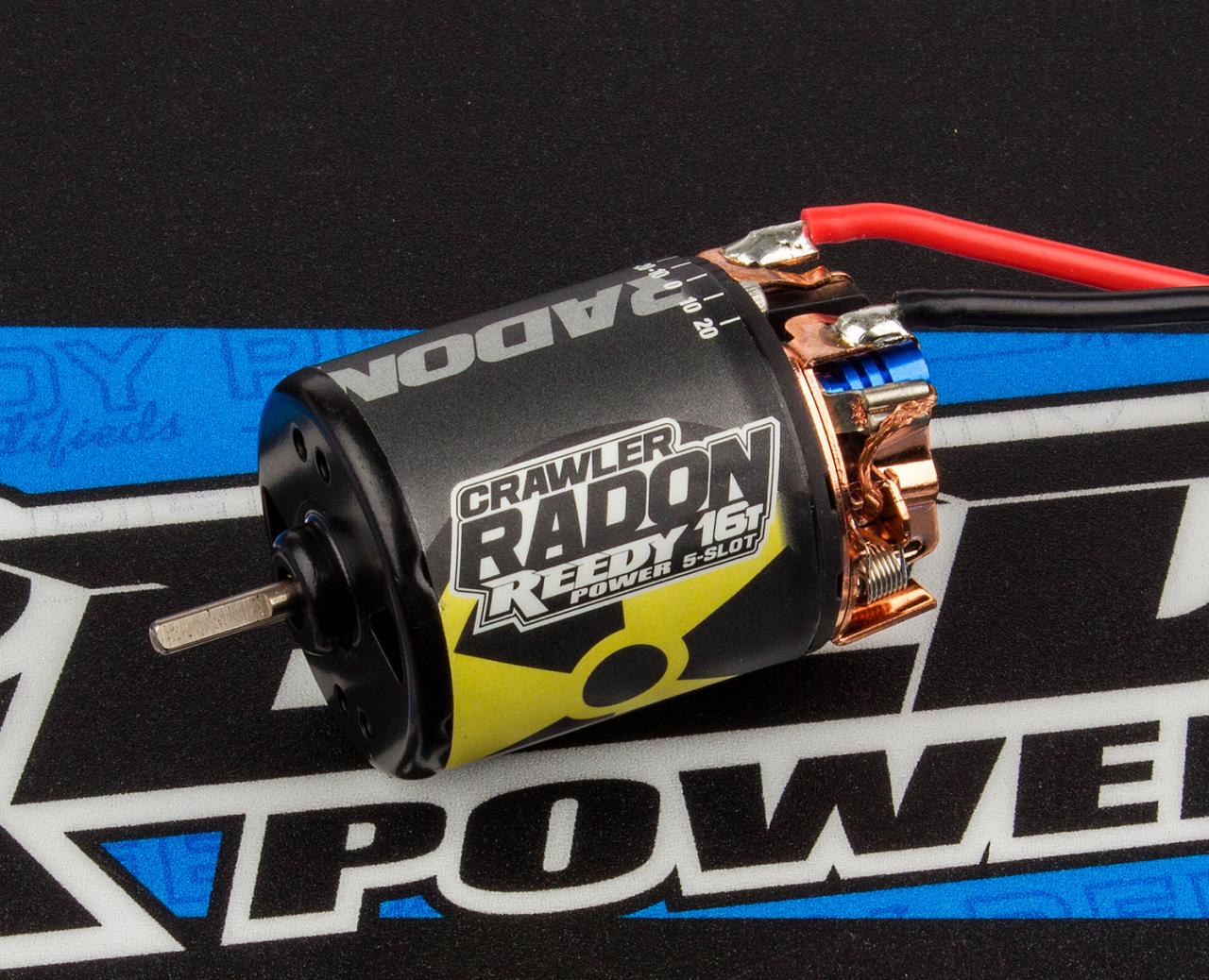 Reedy's all-new Radon 2 5-slot Brushed Crawler motor is now available!
The Radon 2 Crawler motor's 5-slot design delivers a smooth powerband for precision control while traversing steep, uneven, or rocky terrain. Dual ball-bearings improve performance and reliability while adjustable timing allows for adjustments to compensate for different drivetrain configurations that require reverse motor rotation. These features together result in a powerful, reliable, economical, and versatile choice for those who prefer brushed motor power.
The Radon 2 Crawler motor is available in 12T, 16T, and 20T versions to suit a variety of applications and speed requirements.
Visit www.reedypower.com for a complete list replacement and option parts.
Features
Dual ball bearings
Adjustable timing
Ultra-smooth 5-slot armature
Completely rebuildable
Specifications:
| | |
| --- | --- |
| Cells | 2S-3S LiPo/6-9cell NiMH |
| Diameter (mm) | 36 |
| Length (mm) | 53 |
| Shaft Diameter (mm) | 3.175 |
| Weight (g) | 169 |
#27424
Reedy Radon 2 Crawler 16T 5-Slot 1850kV Brushed Motor
UPC: 784695 274242
Available Now
#27431
Reedy Radon 2 Crawler 12T 5-Slot 2700kV Brushed Motor
UPC: 784695 274310
Available May 2019
#27432
Reedy Radon 2 Crawler 20T 5-Slot 1500kV Brushed Motor
UPC: 784695 274327
Available May 2019
#7433
Reedy Radon 2 Brush and Spring Set
UPC: 784695 274334
Available May 2019
#27434
Reedy Radon 2 Wire Set
UPC: 784695 274341
Available May 2019
#WeAreAE
---