Check Out The New SC10 4x4 RTR!
Friday, Aug 5, 2011 at 12:00am CDT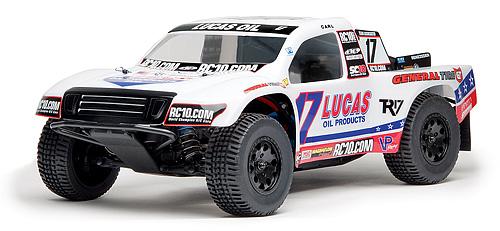 Serious 4WD Short Course Performance in a Ready-To-Run!
Team Associated's is proud to present the SC10 4x4 Ready-To-Run-R/C replicas of the 800+ horsepower short course race trucks driven in the Lucas Oil Off Road Racing Series. The SC10 4x4 RTR comes with your choice of three different factory finished bodies: the Lucas Oil truck driven by Carl Renezeder, the Pro Comp truck driven by Travis Coyne, and the Rockstar/Makita truck driven by Kyle and Todd LeDuc.
The SC10 4x4 RTR comes packed with unique high-performance features, like the composite modular chassis design with sealed receiver box and removable speed control tray for easy maintenance. 4WD short-course trucks need serious power and the new Reedy 550 SL brushless motor dishes out plenty thanks to the new water-resistant XP SC700 speed control complete with heat sink and fan.
This is one serious 4x4 truck.
#90005 SC10 4x4 RTR, Lucas Oil
MSRP: $699.99
MAP: $419.97
UPC: 784695 900059
Available: September 2011
#90006 SC10 4x4 RTR, Pro Comp
MSRP: $699.99
MAP: $419.97
UPC: 784695900066
Available: September 2011
#90007 SC10 4x4 RTR, Rockstar/Makita
MSRP: $699.99
MAP: $419.97
UPC: 784695900073
Available: September 2011
---