New TC6 Gear Diff and Spool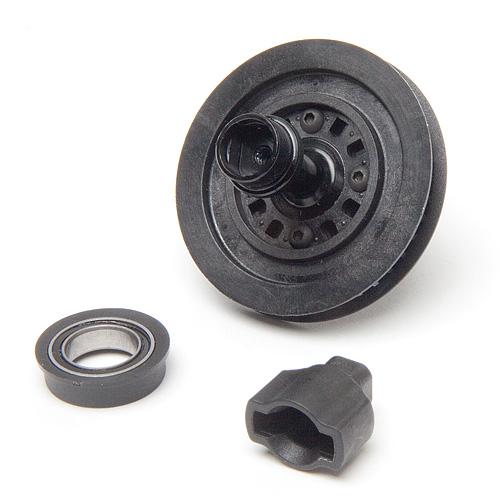 RC10TC6 Gear Diff
Lightweight design: 21.3g with fluid.
Internal gear set optimized to retain the best qualities in strength, mass, and fluid shear rate.
High strength (and temperature) polymer construction keeps the mass and friction down and the durability up.
Typical fluid range from 200cSt-800cSt (20wt-60wt) gives a large tuning window with adequate resolution to ensure maximum performance in any racing condition.
Hard-anodized aluminum outdrives with dual O-ring seals for minimal mass and maximum sealing surface.
Case and cover seal with a rubber gasket for easy rebuilding and an oil-tight seal every time.
RC10TC6 Spool
Lightweight aluminum hub.
Replaceable outdrive cups.
Constructed from a high-strength polymer with an optimized profile to minimize mass and maximize strength.
Retains the use of #31238 CVA bone blade to minimize pressure as loads are transferred; this eliminates binding and ensures smooth suspension movement.
Cups are replaceable at low cost in the event of damage or wear.
#31339
RC10TC6 Spool
$34.99
UPC: 784695 313392
Available Nov. 2011
#31344
RC10TC6 Gear Diff
$44.99
UPC: 784695 313446
Available Nov. 2011
#31345
TC6 Gear Diff Rebuild
$18.99
UPC: 784695 313453
Available Nov. 2011
#31346
TC6 Gear Diff Outdrives
$17.99
UPC: 784695 313460
Available Nov. 2011
#31347
TC6 Gear Diff Case and Pulley
$12.99
UPC: 784695 313477
Available Nov. 2011
#31348
TC6 Gear Diff Pins and Shims
$5.99
UPC: 784695 313484
Available Nov. 2011
#31349
TC6 Gear Diff Seals
$4.99
UPC: 784695 313491
Available Nov. 2011
---