NEW! Reedy 540-SL/550-SL Sensorless Brushless Motors!
Monday, Nov 7, 2011 at 12:00am CST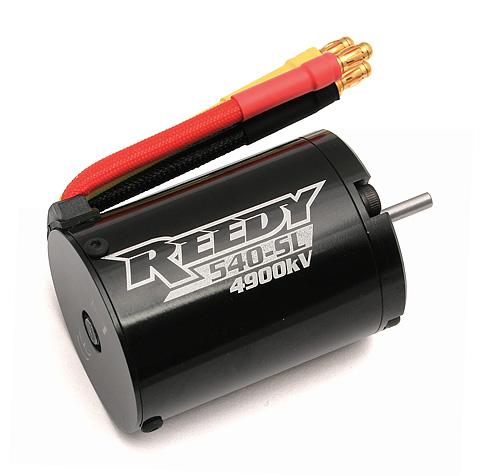 Reedy's all new 540-SL and 550-SL sensorless brushless motors are the perfect choice for the enthusiast looking to upgrade his RTR motor with one that increases power and improves reliability. The latest brushless motor technology along with the design and engineering experience that is responsible for 28 World Championship titles has been incorporated into their design. Even though these motors are designed with the hobbyist in mind, they are perfectly suited for track duty.
Due to its sensorless design, the Reedy 540-SL/550-SL Brushless Motor operates powerfully and efficiently without complicated sensor harnesses. The 540-SL features a 1/8" output shaft, making it perfect for use in 1:10 scale buggies and trucks, while the 550-SL features a high-torque 4-pole rotor and 5mm output shaft, which makes it an excellent choice for the increasingly popular short-course 4WD category.
A variety of models are available to suit most applications. Spare and option parts are also available.
Features:
Oversized precision ball bearings
High-strength 2-pole rotor (540-SL)
High-torque 4-pole rotor (550-SL)
Hardened 1/8" steel shaft (540-SL)
Hardened 5mm steel shaft (550-SL)
Triple-insulated windings
Sensorless operation
3.5mm connectors
Completely serviceable
| | | | | |
| --- | --- | --- | --- | --- |
| UPC Code | Part No. | Description | MSRP | Available |
| 784695 009202 | #920 | Reedy 540-SL 3300kV | $84.99 | In stock |
| 784695 009219 | #921 | Reedy 540-SL 3900kV | $84.99 | Available: In stock |
| 784695 009226 | #922 | Reedy 540-SL 4900kV | $84.99 | In stock |
| 784695 009233 | #923 | Reedy 540-SL 6100kV | $84.99 | Jan. 2012 |
| 784695 009240 | #924 | Reedy 550-SL 3500kV | $109.99 | In stock |
| 784695 009257 | #925 | Reedy 550-SL 4000kV | $109.99 | In stock |
| 784695 009264 | #926 | Reedy 550-SL 4400kV | $109.99 | Jan. 2012 |
| 784695 009745 | #974 | 540-SL/550-SL Bearing Set | $4.99 | In stock |
| 784695 009752 | #975 | 540-SL/550-SL Ceramic Bearing Set | $13.99 | In stock |
| 784695 009080 | #908 | 540-SL Replacement Rotor | $39.99 | Jan. 2012 |
| 784695 009097 | #909 | 550-SL Replacement Rotor | $68.99 | Jan. 2012 |
---