NEW! Vertical Caster Blocks and Spindle Assembly for the RC8.2, RC8T CE, and SC8.2e
Wednesday, Jul 11, 2012 at 12:00am CDT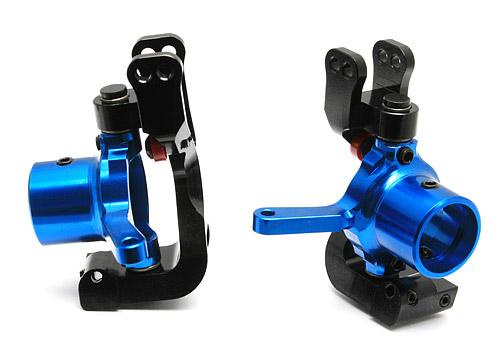 Precision machined from 7075 aluminum, these 16° caster blocks and spindles have been tested and developed by Team Associated's top pilots to provide a more forgiving steering feel and improved suspension characteristics. Used to secure wins at countless events, including the Silver State Nitro Challenge, Alabama Manufacturers Shootout, and French Nationals, the Vertical Caster Blocks and Spindle assembly further optimizes the geometry for all RC8 vehicle platforms.

Features include:
Integrated steering stops
Lowered roll center
Allows lubrication of bearings while assembled
Hat bushings and pins are now secured with set screws (requires thread lock, not included)
Some removal of material from the A-arm is required to achieve full steering throw
They fit all early and later models of the RC8, RC8T, and SC8, nitro and electric. All parts available now!

#89565
Vertical Caster Block, 16°, with hardware, pr
UPC: 784695 895652

#89566
Vertical Steering Block, with hardware, pr
UPC: 784695 895669

#89567
Bushing and Pin, qty 4
UPC: 784695 895676
Click here for Ryan Maifield's RC8.2 2012 ROAR Nationals Top Qualifying setup using these parts.
---