12mm Big Bore Shocks for the B5, B4.2, B44.2, T4.2, SC10, SC10B, and others!
Thursday, May 2, 2013 at 12:00am CDT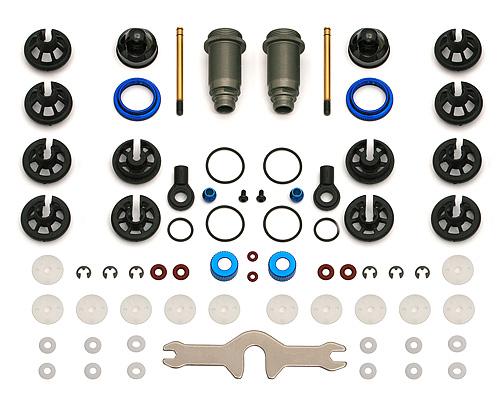 Team Associated is proud to announce their new, highly anticipated 12mm "Big Bore" shocks! The shocks are precision CNC machined, hard anodized aluminum with aluminum shock caps, threaded collars and seal caps. These shocks have been tested and developed by Team Associated's top drivers to provide a plush and consistent feel for the 1:10 off-road fleet of Team Associated vehicles. Since their winning debut in prototype form at the 2012 Cactus Classic, the team has used them to win every major event in the US, including a dominating performance by Ryan Cavalieri at the ROAR 1:10 Off-Road Super Nationals in 2WD and 4WD Modified.
Features include:
12mm hard anodized "Big Bore" threaded shock body
Titanium Nitride (TiN) 3mm shock shaft with stronger M3 threads
Black hard-anodized aluminum shock cap with bleeder screw
12mm two-hole piston (1.5mm, 1.6mm and 1.7mm)
Shock shaft hat bushing guide ensures concentric shock shaft alignment
Optimized seal gland fit for smooth and consistent performance
Factory Team blue anodized aluminum seal gland cap
Factory Team blue anodized aluminum shock collar
Three spring cup heights (+0mm, +5mm, +9mm offset)
Includes mounting hardware and spacers
Springs sold separately
Great for the:
RC10B4.1, B4.2
RC10B5, B5M
RC10T4.1, T4.2
SC10, SC10.2, SC10B, SC10GT
B44.1, B44.2
Magazine Review
The B4.1/Big Bore combo had a lot less 'dance' as I powered through any sort of uneven or ripple section. I also felt that the B4.1 landed off the jumps with way more stability than before. The increased oil volume helps prevent the buggy (or whatever vehicle you install them on) from bottoming out. If you still aren't sold, take a look at every Team driver's car . . . not one of them is using the puny 10mm bodies anymore. --RC Driver, March 2013
12mm "Big Bore" Springs
Team Associated's new Factory Team 12mm springs offer top level quality and precision by design. Through rigorous testing our engineers found that a spring with more coils for a given spring rate improves rate tolerances, and proved to be better on the track. The springs are also black oxide coated to reduce corrosion without affecting rate tolerances. Available in two universal lengths. By using different offset spring cups, you can obtain your desired ride height on all platforms with the same front or rear springs (No more truck and buggy sizes).
Features include:
Precision wound and measured in the USA
High quality ASTM wire
Black oxide coating
Large diameter spring reduces buckling and spring rubbing
Unique universal front and rear springs
Fine spring rate increments (0.15lbs/in front, 0.10lbs/in rear)
Colored pre-cut shrink tubing for spring identification
---
Videos
---