Tebo Takes 5th Consecutive Gas Truck National Title; Associated Still Undefeated In Gas Truck; Maifield Truggy National Champion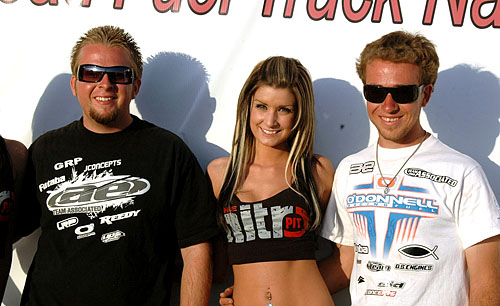 This year's ROAR Gas Truck National Championship was held at the world-famous Nitro Pit facility just outside of Phoenix, AZ. Attendance was a bit low for this event; however, most of the top U.S. drivers showed up to contest the National titles up for grabs.

With a 4-second lead just over six minutes into the event, Maifield bobbled and sat upside down long enough to experience a flameout that he could never fully recover from. This handed the lead over to Mike Truhe who was being hounded by the GT2s of Jared Tebo and Ryan Cavalieri. As the wind picked up, the jumps became treacherous for the light vehicles and Cavalieri dropped back while Tebo and Truhe battled for the race lead.

With approximately ten minutes left in the main event, Tebo took over the lead and held off the hard charging Truhe to claim his fifth consecutive Gas Truck ROAR National Championship. This continues the streak for Team Associated as the only manufacturer to win the Gas Truck National Championships. Tebo has now distanced himself from other 3-time winners Richard Saxton, Mark Pavidis, and Billy Easton to claim the crown as the best Gas Truck racer on the planet.

Team Associated's Jared Tebo led the field in qualifying, taking the TQ position in the Gas Truck category. Tebo, the 4-time defending National Champion, got off to a rough start that gave Associated teammates Ryan Maifield and Ryan Cavalieri an advantage at the start of the 45-minute main event.

In the highly contested 1:8 Truck category, Team Associated drivers Ryan Maifield and Ryan Cavalieri just missed out on the TQ position with their Kyosho ST-RRs. As the race started, TQ man Tebo got a good jump, but by the first pit stop Maifield had closed up to his back door, setting the stage for a great event. Electronic problems forced Tebo to retire. Maifield continued to stretch his lead to a lap and a half over second place Cavalieri by the end of the 60 minute main event. This marks Maifield's second National Championship, complementing his 1:8 Buggy Championship in 2006.

Congratulations to Jared Tebo on his amazing achievement and to newly crowned 1:8 Truck National Champion Ryan Maifield for proving once again that Team Associated is truly Champions By Design.

Photos courtesy of Aaron Waldron, R/C Car magazine.
---