Hartson & Motter Win at JBRL Series Finale
Friday, Oct 26, 2012 at 12:00am CDT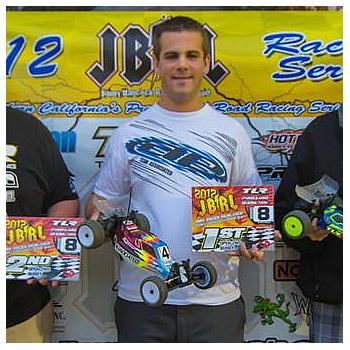 This year's round 8 and final round of the Electric JBRL was held at Hot Rod Hobbies in Saugus, CA. There were two rounds of rocket-round qualifying and one 6-minute main event, all run on Saturday.
Racers showed up on Friday to get some practice for the racing on Saturday. As always, there was a good number of racers getting in some laps. The track layout was the same from the Reedy Truck Race a few weeks before and had good flow and great traction for how early in the event it was.
Saturday morning brought overcast skies and slightly colder temperatures than the practice day before. But the weather didn't seem to hamper the traction or racing. It looked to be another great day of racing if the rain managed to stay away.
In the Truck Modified and 2WD Modified classes, Steven Hartson started second behind Mike Truhe. A patient Hartson shadowed Truhe for the entire Truck Modified main event only to finish a few tenths of a second behind at the finish line. In 2WD Modified, Hartson got around Truhe on the first lap and never looked back. The Team Associated driver lapped almost the entire field on route to a dominant performance.
In the 2WD Stock class, Team Associated's Kevin Motter took his Factory Team B4.1 to the A-Main victory as well with a stellar performance ahead of Matthew Pages and David Jenson.
With the JBRL series now a permanent fixture in the Southern California racing scene, the series continues to grow in popularity and prestige. Look for more race results from the JBRL when the 2013 season kicks off early next year.
Team Associated - Champions by Design
---