Borkowicz and Venezia win ROAR Region 4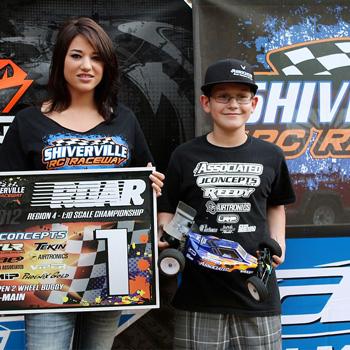 The 2012 ROAR Region 4 Off-road Championships were hosted by Shiverville R/C Raceway in High Springs, FL. An amazing layout and smooth surface was met with enthusiasm from the top racers in the region. Three rounds of qualifying, triple A mains, and a free raffle were scheduled for the weekend.
In the 2WD Stock Buggy and 2WD Stock SCT classes, 10-year-old Austin Venezia drove his Reedy/LRP-powered B4.1 and SC10 FT to the TQ position in both classes. In the 2WD Modified Buggy class, veteran racer Paul Wynn was the fastest in qualifying with his Reedy/LRP-equipped B4.1.
Austin Venezia took full advantage of his pole position start and went on to win the Regional title in the 2WD SCT class. Even though he tied for the win in the 2WD Stock Buggy class, he was edged out in the tie-breaker and had to settle for second. Austin Venezia is definitely one of the young guns to watch in the future!
Another young gun shook things up in the 2WD Modified Buggy class. At just 12 years old, Daimon Borkowicz stayed smooth and consistent, taking his first overall Regional title with his a B4.1 powered by a Reedy Sonic motor and LRP ESC. Top qualifier Paul Wynn drove a solid race to finish in the second position.
Special thanks to owners Ken and Cheryl Shiver for hosting such an amazing event at their private track and for their amazing hospitality.
Products used:
Daimon Borkowicz 2WD Mod Buggy
#736 Reedy WolfPack 5000mAh 25C 7.4V
#946 Reedy Sonic 7.5
#9040 RC10B4.1 Factory Team Worlds Car
#LRP80905 LRP SXX Comp V.2 ESC
Austin Venezia 2WD Stock Buggy
#602 Reedy LiPo 65C 4100mAh 7.4V
#941 Reedy Sonic 17.5
#9040 RC10B4.1 Factory Team Worlds Car
#LRP80915 LRP SXX Stock Spec V.2 ESC
Austin Venezia 2WD Stock SCT
#736 Reedy WolfPack 5000mAh 25C 7.4V
#941 Reedy Sonic 17.5
#9040 RC10B4.1 Factory Team Worlds Car
#LRP80915 LRP SXX Stock Spec V.2 ESC
---