Patrick Hofer wins double at the Hohenems Winterchamps in Austria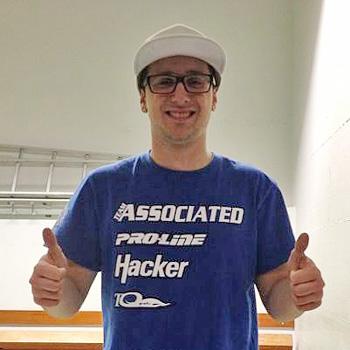 The Winterchamps track was surfaced with carpet and the carpet-performing handout tires from Schumacher were used for this race. Due to the high bite and flat surface, drivers had to find a touring car setup for their buggies.
On Saturday Patrick started setting the laptime level in the training and qualifying sessions.
After two more rounds of qualification on Sunday, Patrick placed his B4.2 on TQ and his B44.2 on second. Due to a mistake from Patrick, Kyosho driver Sven Zuend won the first of three finals in 2WD. Patrick stayed cool and won round 2 and 3 and secured the overall win in 2WD Modified.

In 4WD Buggy Modified there was a hot fight between Roger Burkhard, Sven Zuend, and Patrick Hofer. In the first round, Patrick crashed and Roger Burkhard finished first, followed by Sven Zuend. In round 2, Patrick took the lead early and finished the line first, followed by Sven Zuend. So those three drivers had to do the decision in round 3. After three laps, Patrick and Sven led the field. Patrick was able to pass Sven after 4.5 minutes and did the double perfect.
---