Hartson, Maifield & Kinwald Win at KO PROPO Off-Road Championship
Thursday, Jan 10, 2013 at 12:00am CST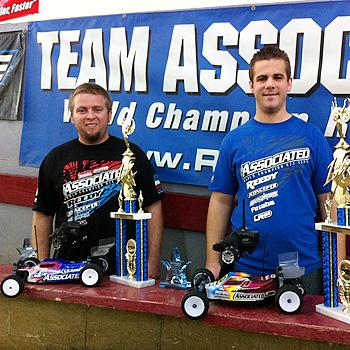 The third annual KO PROPO Off-Road Championship was held at beautiful West Coast R/C Raceway in La Mirada, California. Over 200 entries from across the country decended upon the Southern California facility to vie for the titles. This event also served as a great warm-up to the Reedy International Off-Road Race of Champions to be held at the same facility later in January.
In the 2WD Modified category, Team Associated/LRP/Reedy's Steven Hartson was the man to beat. Setting the TQ in three of the four rounds, Hartson's Factory Team B4.1 Worlds Car was on rails. An unfortunate break before the start of A1 set him back and teammate Kody Numedahl took the win. In A2 and A3 there wasn't a question as to who was the fastest guy on the track. Hartson walked away from the field in both races to lead the podium sweep for Team Associated, with Numedahl taking second and Ryan Cavalieri taking third. All three drivers used the LRP Flow speed control, with Hartson and Numedahl using Reedy batteries, and Hartson using an LRP motor, and Numedahl using a Reedy motor.
4WD Modified was a battle between two drivers: top qualifier Ryan Maifield and Steven Hartson. Both drivers were using the newly released Factory Team B44.2 equipped with the LRP Flow speed control and Reedy batteries. Maifield's car utlized a Reedy Sonic motor while Hartson's was powered by the LRP X-20. In A1 and A2, Maifield was able to hold off the hard-charging Hartson to take the win and 4WD Modified title.
In 2WD Modified Short Course, Brian Kinwald was the class of the field. Taking the TQ and win in the single 7-minute A final, "The Dirtinator" continues to have success with his Factory Team SC10.
Thanks to KO PROPO and WCRC for a great event and congratulations to all the champions.
---