Six Victories For Team Associated at Motorama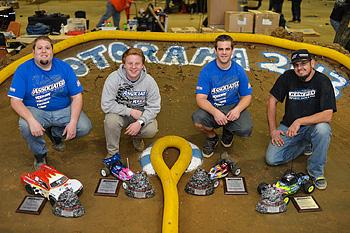 With over 600 total entries between the two tracks on site, Motorama continues to be one of the largest RC events in the world. As part of a complete motorsports venue, Motorama features arenacross, auto shows, go-kart racing, robot wars, midget racing, and a plethora of onsite vendors selling anything and everything related to motorsports.
At the RC events, racers either competed with their 1:8 vehicles on the large track that had been transformed from a rodeo arena, or on the purpose-built smaller clay track with 1:10 vehicles. Whether it was the high-flying large track or the technical smaller track, one thing remained the same: Team Associated was there dominating. Taking an impressive six top-qualifying positions among the premier classes including 2WD Modified (Steven Hartson), 4WD Modified (Gunnar Rieck), Truck Modified (Brent Thielke), 2WD Modified Short Course (Chad Due), Short Course Buggy (Dave Duncan) and 1:8 eBuggy (Max Flurer).
With qualifying bleeding over on the 1:10 track to Sunday morning, racing was happening all day long. Starting out the winning streak for Team Associated/Reedy/LRP was Max Flurer who took an impressive win in 1:8 eBuggy with his Factory Team RC8.2e powered by a #988 Reedy 1800kV motor and then again in 1:8 eTruggy with his #80930 e-conversion equipped Factory Team RC8T and #989 Reedy 2100kV motor. Both vehicles easily made the 10-minute final with his #626 Reedy 4S 5500mAh battery and LRP iX8 speed controllers.
As racing completed on the 1:8 track, the focus shifted over to the 1:10 track where the winning for Team Associated continued. This time Chad Due brought home the first victory in 2WD Modified Short Course with his Reedy Sonic Mach 2 7.5 turn powered Factory Team SC10 and LRP Flow Works Team speed control.
Next up to take a title was 14-year old Gunnar Rieck and his LRP X-20 7.5 turn/LRP Flow Works Team-powered Factory Team B44.2 in 4WD Modified Buggy. Taking the fifth title for Team Associated was Dave Duncan and his Reedy Sonic 17.5/LRP speed control combination in the newest class, Short Course Buggy with his SC10B. And finally, with the most dominant performance of the weekend, Steven Hartson smoked the field in 2WD Modified buggy with this Factory Team B4.2/LRP X-20 8.5 Turn/LRP Flow Works Team combination.
A big thanks goes out to all the Motorama staff and racers for making this event one of the best around. With spectators filing through the event from 8am-8pm, RC racing got exposed to thousands of fresh eyes. Very few events have the ability to do this, and that's what makes the Motorama event unique.
Max Flurer, 1:8 eBuggy
#80907 Factory Team RC8.2e
#988 Reedy 1800kV motor
Max Flurer, 1:8 eTruggy
#80912 Factory Team RC8T
#80930 e-Conversion Kit
#989 Reedy 2100kV motor
Chad Due, 2WD Modified Short Course
#7034 Factory Team SC10
#238 Reedy Sonic Mach 2 7.5 turn motor
#LRP80970 LRP Flow Works ESC
Gunnar Rieck, 4WD Modified Buggy
#8062 Factory Team B44.2
#LRP50664 LRP X-20 7.5 turn motor
#LRP80970 LRP Flow Works ESC
Dave Duncan, Short Course Buggy
#9050 SC10B
#941 Reedy Sonic 17.5 motor
Steven Hartson, 2WD Modified buggy
#9041 Factory Team RC10B4.2
#LRP50654 LRP X-20 8.5 Turn motor
#LRP80970 LRP Flow Works ESC
Setups Used:
---