Double TQ Win for CML and Team Associated in France!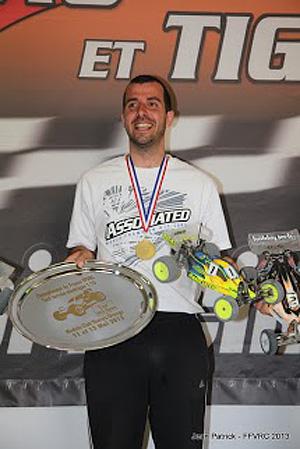 Last weekend the third round of the French nationals took place in Orange in the south of France, close to Marseille. Eighty drivers gathered for a fight on this very dusty and slippery dirt track. Two famous international nitro drivers, Yannick Aigoin and Reno Savoya, were also starting.
2WD
After his victory in the second round, Yannick was pleased to find the RC10B4.2 very effective on this dirt clay track.
Yannick took the TQ, and the other CML Team drivers, Ludovic Valtier, Sébastien Mure, and Frédéric Pain, respectively took the 8th, 11th, and 12th in A Main -- resulting in four B4.2 buggies in the Main!
In the finals, Yannick won the first and the third main, taking the title of third round of French nationals in 2WD. Reno Savoya and Alexis Dufau-Cazenave completed the podium lineup. After his second victory, this CML driver currently leads the French championship!
4WD
In qualifying, Yannick took a big advantage over Reno with five TQ's out of six possible. The rest of the Team, Ludovic Valtier and Frédéric Pain, qualify 5th and 11th, placing all the team's B44.2 buggies in the A Main!
In the finals, Yannick won the first and third mains - and added the 4WD national title to his long string of victories.
---