AE/Reedy Sweeps 13.5 TC at the Reedy TC Race of Champions!
Wednesday, May 29, 2013 at 12:00am CDT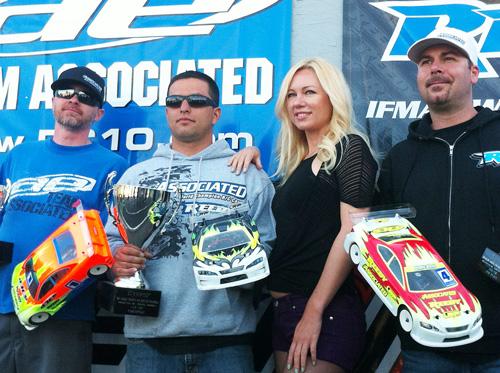 The most prestigious event on the RC calendar, the Reedy International Touring Car Race of Champions, shared the spotlight with NASCAR, IndyCar, and F1 over Memorial Day weekend. A field of international drivers which included World, European, U.S., and Canadian champions gathered to compete in the Invitational class while a strong field of racers battled it out in three Open TC classes and the debut of the F1 class.
Norcal Hobbies in Union City, CA once again hosted the event on their ultra-smooth high-traction surface with a challenging high-speed layout designed by pro racer Rick Hohwart. Practice on Thursday and Friday prepared the Open class drivers for three rounds of qualifying on Saturday, with one additional qualifying round on Sunday, plus the main events. Invitational class drivers ran the traditional program featuring eight head-to-head racing rounds spread out over the weekend.
In the 13.5 Open class, AE/Reedy/LRP driver and TC6.1 WC designer Bob Stellflue set the pace throughout qualifying with fastest times in each of the four qualifying rounds. After winning A1, Bob unfortunately encountered some problems in A2 and A3, which dropped him to third overall in the final standings.
Gonzalo Cortes, driving an identically prepared Reedy/LRP powered TC6.1 WC, was crowned as champion thanks to an impressive A3 win. A third Reedy/LRP-powered TC6.1 WC driven by Sean Maybell claimed the second step of the podium with a consistent run of second place finishes in all three legs.
The TC6.1 WC, Reedy Sonic 540 Mach 2 motor, Reedy LiPo battery, and LRP Flow Works Team ESC worked successfully in combination with the drivers and were a key part of the winning package and the 1-2-3 podium sweep.
Congratulations to the winners and special thanks to Eric Vasutin and Norcal Hobbies for hosting another memorable Reedy Race!
Products used:
#233 Reedy Sonic 540 Mach 2 13.5
#309 Reedy 7000mAh 65C 7.4V LiPo
#30108 AE TC6.1 Factory Team Worlds Car
---