Four Class Wins at the 2013 ROAR 1/10 Electric Off-Road Nationals!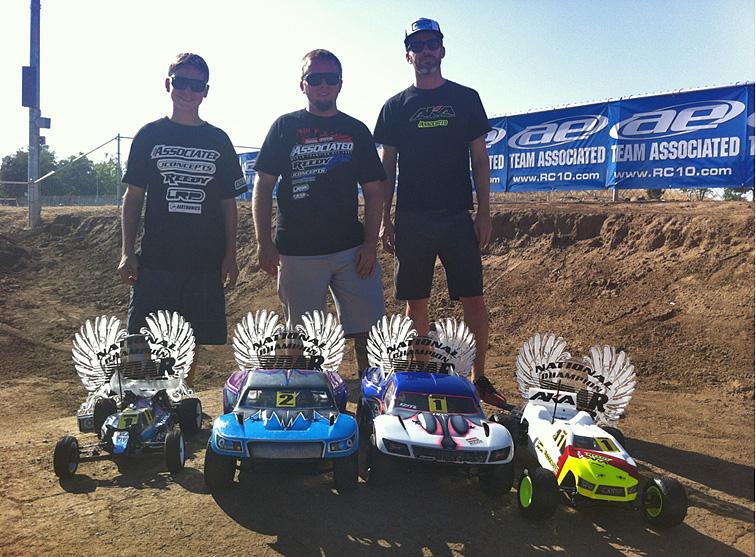 The 2013 ROAR 1/10 Electric Off-Road Nationals visited Silver Dollar Raceway in Chico, California to determine the top drivers in North America. Seven classes were scheduled to compete on the hard-packed Silver Dollar surface with a newly installed track configuration designed specifically for this event.
Track guru Kevin Jelich designed the layout, which incorporated challenging obstacles and jumps, including several elevation changes, off-camber turns, and varying track widths. It became clear early on that driving skill, setup, tire choice, motor/battery choice, and ESC setup would all play important roles in the final outcome.
Relative newcomer Spencer Rivkin has been making waves on the regional level and finally had the opportunity to show his skills on a national stage with a win in the 2WD Stock 17.5 Buggy class. Spencer placed his Reedy-powered B4.2 on the pole position for the three-leg A-Main event. After a second-place finish in A1, Spencer came back in A2 to take the win, which was enough to give him the National Championship. Teammate and fellow young gun Damon Borkowicz won A3 to join the podium celebration in second position overall.
Rivkin also competed in the 2WD Stock 17.5 Short Course Truck class where he overcame his second starting position to take wins in both A1 and A2 with his Reedy-powered SC10.2 to claim his second National Championship of the weekend.
In contrast to Rivkin, Ryan Maifield is one of the most experienced drivers around. This experience really paid off in the Modified Short Course class where high traction conditions made chassis setup and tire selection crucial to prevent traction rolling. Maifield's Reedy-powered SC10.2 was pretty much untouchable throughout the event. Fastest in three out of four qualifying rounds, Ryan led wire-to-wire from the pole position in both A1 and A2 to win the National Championship. Teammate Kody Numedahl, driving another Reedy-powered SC10.2, joined Ryan on the podium in third place.
After a slow start in 2WD Stock 17.5 Racing Truck qualifying, Brent Fiege came back with the fastest time in rounds two, three, and four of qualifying to grab the number one starting spot for the mains. Now on a roll, Fiege tightened the screws on the competition by driving his Reedy-powered T4.2 to a wire-to-wire win in both A1 and A2 to claim his first ROAR National Championship.
Congratulations to the winners and thanks to the participants, ROAR, and Silver Dollar Raceway for another memorable event!
Products used:
2WD Modified Short Course
#238 Reedy Sonic 540 Mach 2 7.5T Motor
#309 Reedy LiPo 7000mAh 65C LiPo Battery
#7038 SC10.2 Factory Team
2WD Stock 17.5 Buggy
#232 Reedy Sonic 540 Mach 2 17.5T Motor
#602 Reedy LiPo 4100mAh 65C LiPo Shorty Battery
#9041 Factory Team RC10B4.2
2WD Stock 17.5 Short Course
#232 Reedy Sonic 540 Mach 2 17.5T Motor
#309 Reedy LiPo 7000mAh 65C LiPo Battery
#7038 SC10.2 Factory Team
2WD Stock 17.5 Racing Truck
#232 Reedy Sonic 540 Mach 2 17.5T Motor
#309 Reedy LiPo 7000mAh 65C LiPo Battery
#7025 Factory Team RC10T4.2
---
Videos
---
Videos
---
Videos
---
Videos
---