Tozser Wins in Stampede City!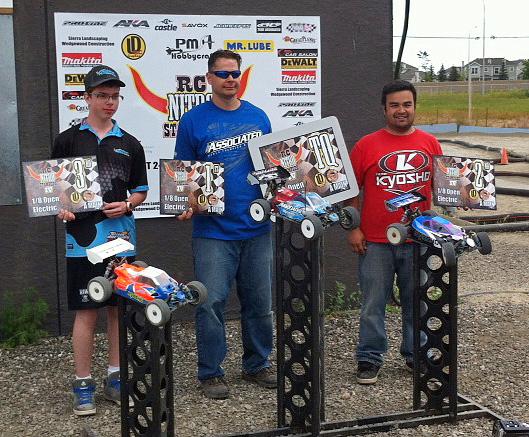 Peter Tozser was the man to beat in the 1/10 SC 4x4 and 1/8 E-Buggy classes at the Nitro Stampede in Calgary, AB. The event, now in its fourth year, featured a variety of popular classes for both electric and nitro enthusiasts.
Peter drove his Reedy-powered SC10 4x4 to the top of the time sheets in 1/10 SC 4x4 qualifying and maintained his dominance in the main event with an impressive win.
In the 1/8 E-Buggy division, Peter drove an RC8.2e powered by a Reedy Sonic 1512 motor and Reedy Wolfpack 3700Ah LiPo battery. Starting on the pole position, Peter grabbed the early lead and never looked back to take his second win of the weekend.
Thanks to the race organizers and participants who have made this great event possible.
Products used:
1/8 E-Buggy
#733 Reedy WolfPack 3700mAh 35C 14.8V LiPo
#988 Reedy Sonic 1512 1800kV Motor
#80907 Factory Team RC8.2e
1/10 SC 4x4
#310 Reedy LiPo 5700mAh 65C 7.4V SP LiPo
#969 Reedy Sonic 550 4.5 Motor
#90010 SC10 4x4 Factory Team Kit
---