Richard Saxton wins both the Gas and Electric NORRCA Truck World Cups!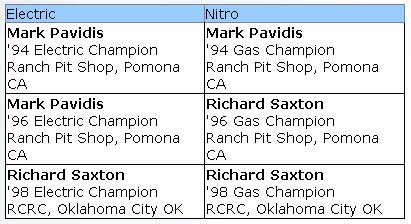 The 1998 NORRCA Truck World Cup race, held at RCRC in Oklahoma City, was once again dominated by Team Associated's RC10GT and RC10T3 trucks. Richard Saxton repeated his 1996 win in the 1:10 Gas Truck competition, turning 108 laps in 45:03. RC10GTs finished in nine of the ten places in the A Main, with Chad Bradley, Mark Pavidis, Greg Degani, Austin Dvorak, Mike Walker, Scott Hughes, Brandon Rowland, and Travis Amezcua finishing third through tenth, respectively.

In the Electric Truck competition, Saxton once again led the field. His RC10T3 scored 200 points in the multiple A Main scoring system, edging out Team Associated's Billy Easton, Scott Hughes, Travis Amezcua, and Mark Pavidis for the win. The Team Associated T3 was also the predominant truck in the electric competition, with eight out of ten A Main finishes. The overwhelming majority of drivers chose Reedy Modifieds motors and Reedy Zappers batteries for the T3s, as well as LRP V6 electronic speed controls.
---