Team Associated Shreds at the Surf City Classic
Wednesday, Aug 28, 2013 at 12:00am CDT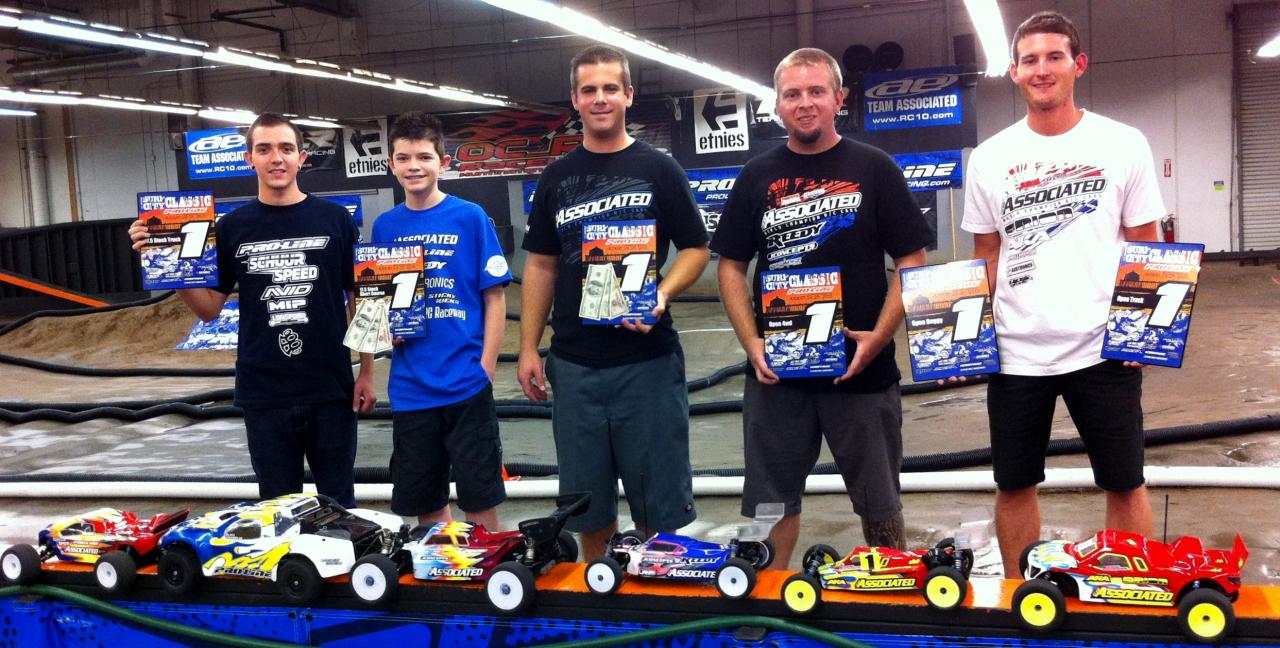 The annual Pro-Line Surf City Classic has quickly become a staple of Southern California indoor racing. With a laid-back atmosphere, consistent track conditions, and lots of competition, it's what racing in SoCal is all about. The layout this year rewarded a consistent and fluid driving style while maintaining discipline to not over-drive the obstacles. A true driver's layout.
In the premier class of 2WD Modified, it was the B4.2 Factory Team with Centro C4.2 conversions of Ryan Cavalieri, Ryan Maifield, and Steven Hartson that stole the show. Cavalieri checked out to a quick lead, never really to be challenged, as Maifield settled in to second and Hartson recovered from a bad start to get the third step on the podium and completing the Team Associated 1-2-3 sweep.
The second premier class was 4WD Modified where Ryan Maifield and his Reedy-powered B44.2 took over the lead early in the race and never faltered. Despite a late race charge from teammate Steven Hartson, Maifield took the win while Ryan Cavalieri rounded out the podium for Associated's second 1-2-3 sweep.
1:8 eBuggy has always been a popular class at OC/RC Raceway and when Steven Hartson hit the track with his RC8.2e Factory Team, everyone knew he meant business. Almost lapping the entire field in the 10-minute main event, Steven's Reedy-powered buggy was clearly the class of the field. OC/RC employee and Team Associated driver Jake Thayer actually took over the lead for a few corners, but steady driving from Steven saw him pull back away, forcing Thayer to settle for a popular second place overall.
In the Truck Modified class only one word describes Ryan Cavalieri and his T4.2 Factory Team's weekend: dominance. Setting the fastest time in all three qualifiers and winning the main event start to finish, Ryan's truck was hooked up all weekend long. Joining him on the podium for Team Associated in third place was up-and-comer Kevin Motter.
Not to be left out of the winner's circle, young Blake Champlin took the win in 17.5 2WD Short Course with his SC10.2 Factory Team, and Wayne Wyrick got a hard-fought win in 17.5 Truck with his T4.2 Factory Team.
Special thanks goes out to the OC/RC crew and staff for putting on a great race that continues to gain popularity and prestige as the years pass.
Products mentioned:
#C0060 C4.2 Mid-Motor Conversion Kit
#9041 Factory Team RC10B4.2
#9062 Factory Team B44.2
#80907 Factory Team RC8.2e
#7025 Factory Team RC10T4.2
#7038 SC10.2 Factory Team
---