Team Associated's Krueger and Feneis Take Super Saturday Electric Series Wins
Thursday, Sep 19, 2013 at 12:00am CDT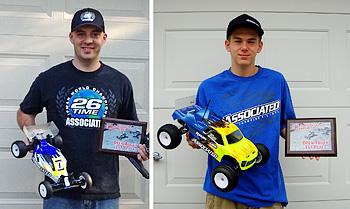 Electric off-road has made some of the largest gains in numbers and talent over the past few years. This year, the best in the state gathered to compete for a series championship at seven events spread throughout Minnesota.
Two of the most competitive classes proved to be the 2WD Modified Buggy and Truck Modified classes. In order to win in these classes the drivers would need to show speed, consistency, and versatility to tackle the seven tracks in the series.
In the 2WD Modified class, Team Associated's Kraig Krueger followed up his Minnesota State Championship in 2WD Modified with a series finale win at Wheel Brokers Raceway in Pine City, Minnesota. This final win helped him to secure the overall victory and Super Saturday Series Championship in 2WD Modified.
In the Truck Modified class, many drivers challenged for the win, but only Team Associated's Neil Feneis can be called Series Champion. In the final round, it was a battle of the young guns. Team Associated's Dan Hamann took the TQ honors, but Fenies would not be denied. Neil Feneis capped off his series championship with a final round win at Wheel Brokers Raceway in Pine City, Minnesota.
---