1999 Silver State Nitro Challenge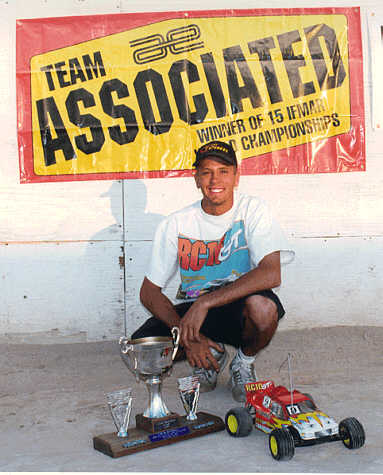 Take two hundred 1:10 gas trucks and 1:8 gas buggies and put them on one of the most challenging off road tracks ever, and you'll find out who are the best drivers and who has the best off road vehicles. This track had 22 jumps of varying sizes, heights and difficulties, not to mention as rough as it gets. A real challenge for all the drivers.

The Western R/C track in Las Vegas hosted the biggest gas off road race of the year, with 200 entries from around the country as well as a Kyosho Team from Japan. Everyone had 4 qualifying runs, with the best two counting.

In the 1:10 gas truck class, Austin Dvorak TQ'd with the best time in each of the four rounds with his RC10GT gas truck. The Team also placed eight GT's in the Main. Billy Easton drove a flawless race to win the event by full lap, with the Team also placing eight RC10GT's in the Main.

In qualifying, Austin Dvorak TQ'd and was in a class by himself. Austin had the fastest times in each of the four rounds of qualifying with his RC10GT. Unfortunately, Austin had a screw back out in the Main while leading, causing him to drop back and then finally work back up to 4th.

The Western R/C track was one of the toughest offroad tracks we've ever run on. It was very rough, and there were ruts everywhere, and if that wasn't bad enough, there were also jumps everywhere you turned.
---