1999 Reedy Truck Race of Champions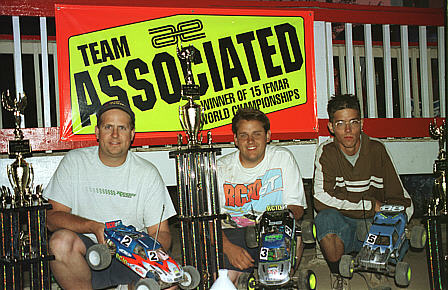 A record 192 entries broke the record for this Reedy Race, with entries from all across the country competing. In the popular Gas Truck class, eight out of ten trucks were RC10GTs.

Billy Easton led the way in qualifying, winning Top Qualifier honors, and Billy was fast in every round of qualifying with his RC10GT gas truck.

Gas Truck Class

To win a 45-minute Main, you not only have to be fast, but you must be consistently fast. And this is what Greg Degani had to win the event, in a very close race with a lot of very fast guys trying to catch him. But Greg kept his cool and stayed on a pace that wasn't as fast as a few others. This was a hard thing to do on this track, but Greg managed not to make any mistakes while going fast! Mark Pavidis was going very fast, but had a few small problems and finished a few seconds behind for 2nd, and a surprisingly fast newcomer, Jason Jakubczyk, from Michigan, took 3rd, in his first-ever gas truck race - that's incredible! All three drivers ran RC10GT gas trucks.

Factory Modified Class

Billy Easton was also very fast in the Factory Modified Class with his Reedy/LRP RC10T3 truck. Billy won the 3rd A Main with the fastest time of the meet. His overall points total put him in a 3-way tie for the overall win, which was then determined by backup times, placing Billy in second place overall.

Modified Truck Class

Jason Jakubczyk also won the tough Modified Truck Class with his RC10T3 truck.
---