Team Associated's Jake Dellinger Wins RC Pro Series 1:8 Pro Electric Buggy National Championship!
Tuesday, Nov 19, 2013 at 12:00am CST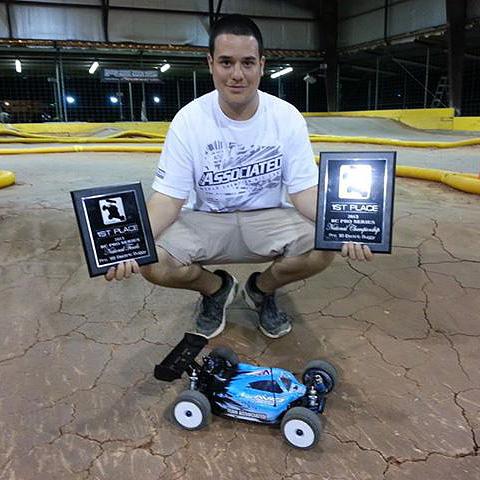 Congratulations to Team Associated's Jake Dellinger on winning the National Championship for 1:8 Pro Electric Buggy in the nationwide RC Pro Series with his RC8.2e Factory Team buggy.

The RC Pro National Series is built by dividing the country in to a geographic series of events and crowning divisional champions. The series then culminates with a final championship that brings the regional leaders together to battle for an overall championship.

With two wins in the Texas State Series, Dellinger was eligible to compete for the national championship at the finals along with three-time defending national champion teammate, David Joor. With a less-than-expected fifth place qualifying effort, Dellinger knew he had to win the triple A-Main final to have a shot at the national championship.

In A1, Joor got the win, with Dellinger working his way in to third. For A2, Dellinger stayed consistent and found his way to the front for the win, setting the stage for a showdown with Joor in A3 for the title. An early mistake by Joor sent him to the back of the field while Dellinger worked his way in to second. Shadowing the leader, Dellinger was biding his time -- and the leader crashed. This gave Dellinger the gap he needed to cruise to the win and overall National Championship. Joor's consistent finishes netted him second overall, giving the Team Associated RC8.2e Factory Team the #1 and #2 positions in the National standings.
---