Team Associated's Ryan Cavalieri Sweeps Spektrum Off-Road Championships!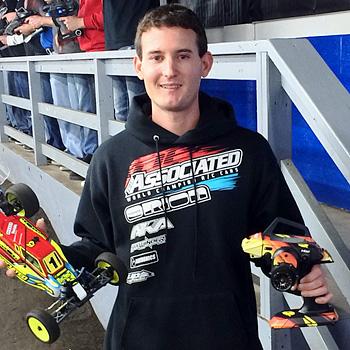 The Spektrum Off-Road Championships has become a must-attend event for racers from all around the Midwest while also drawing in some of the nation's top pros. This year was no exception. With Team Associated's 4x World Champion Ryan Cavalieri making the trip out from Southern California to take on the competition, everyone knew who was the man to beat.

Throughout practice on Wednesday and Thursday the line to get some track time grew and grew. With a final total of 361 entries and 41 heats of qualifying, the popularity of the event was never in question. As Friday morning kicked off and qualifying got underway, Cavalieri showed the competition that he was there to win. Running 2WD Modified, 4WD Modified, and Truck Modified, Cavalieri set the TQ in both rounds of qualifying in all three classes. With secure runs on the first day of qualifying, Cavalieri's attention switched to the main events. Requiring broken-in tires to be the fastest, Cavalieri used the second day of qualifying to prep tires for the main event, thus opening the window for the competition to gain some momentum.

As Sunday rolled around and the main event started, it was Cavalieri who started on pole in all three classes. With only having to take 4WD Modified to a decisive A3, Cavalieri cleaned up 2WD and Truck Modified by winning A1 and A2. With a victory in A2 and A3 of 4WD Modified, Cavalieri put a dominant stamp on the event for Team Associated.

Congratulations goes out to Ryan and Team Associated drivers Chad Due, Cole Tollard, Kai Goff, Scotty Ernst, CJ Greeves, Mason Perillo, Brandon Rohde, Mike Hudson, Sarah Ernst, Colton Kruse, Corey Liehbert, Cory Schroder, and Sean Cochran for their main event performances. Also, "thank you" to everyone at Trackside Hobbies for their dedication to the event and making it one of the best out there.
Products used:
#7025 Factory Team RC10T4.2
#9062 Factory Team B44.2
#9041 Factory Team RC10B4.2
#C0060 C4.2 Mid-Motor Conversion Kit
---