Two RC10TC3's placed in the A Main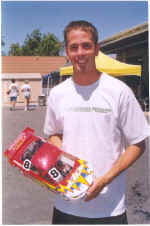 We finally got to run our TC3s in a big race! We did much better than we expected to do for a new car. With every new car we make, it takes time to learn how to tune it for the various track conditions. We simply haven't had the time to do this yet.

However, Billy Easton, one of our best offroad drivers, found out how easy it is to drive the new TC3 touring car. Billy lead the first day's Qualifying standings, and in the final qualifying standings he had out-qualified every other type car except for one Schumacher car. Billy, of course, used Reedy motors and batteries, the new LRP v7.1 speed control, and new LRP Phaser receiver.

Billy finished third overall in the A Mains with some great racing, actually swapping places with the leader a couple times. Our congratulations to Chris Tosolini and Schumacher for their great win!

We also disproved all the rumors concerning our new car. We had no gear box problems. The drivers didn't even have to worry about working on the gear boxes, and the rest of the car proved to be very reliable, too. It was well worth the wait.
---