Lex Tyler Takes the Speedworld Speedcup!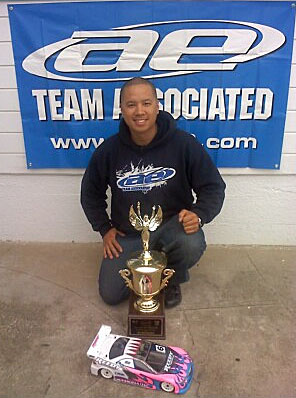 The Speedworld Speedcup is known as one of Northern California's biggest races hosted by Billy Bowerman after the Reedy Race of Touring Car Championships. This event usually brings racers from all over North Western Region even racers from "So Cal". This event even had guys like Greg Hodapp, Matt Francis, Barry Baker, Chris Tosolini, Mike Swauger, and Josh Numan come in the past.

This year's event was a little slow but still maintained high caliber racing. Modified was always the class to watch but by popular demand 13.5 had its time to shine. At least five racers who had made the A-Main at the previous Reedy Race attended this event. The track layout was changed slightly after the Reedy Race and became faster as the weekend went on. The Speedcup is a two-day race where racers qualify Saturday for Sunday's pole position.

On Saturday, Jason Moberly from Team Associated locked up TQ in 13.5 with Top Honors. On Sunday, more racers arrived and things changed from there as Lex Tyler (AE) powered his TC5R using Reedy 5000 Li-Po Pro and LRP 13.5 to the top in front of Jason Moberly (AE), E.J. Evans (T.O.P. Racing) and Scotty Barnes (Hot Bodies). Tyler set the fastest lap, fastest qualifier and fastest finish for the weekend, only showing up on Sunday!

In the Main event, Tyler made sure to stay in front the whole race with Jason And E.J. behind him to bring this one home. In the first minute of the main, Jason Moberly (AE) made many attempts for lead changes but racing took its toll. The Team Manager from T.O.P. Racing, E.J. Evans, closed the gap immediately after that altercation and kept Tyler in sight with Scotty Barnes behind him. With time running out, Evans pushed harder and bobbled, which allowed Barnes to go by but Tyler had already crossed the line with almost 5 seconds ahead of the competition, bringing home the Victory.

Thanks to Lex Tyler for this report.
---