Five GTs Place in the Silver State Nitro Challenge 2000!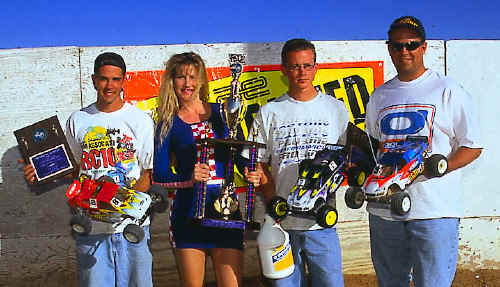 This is the largest annual gas off-road race in the West. Teams from all around the country come to compete in this event, which is held at the Western R/C track in Las Vegas.

Because the track is very challenging, Team Associated decided this was the best place to test our new Factory Team GT gas truck. We were only able to get 5 trucks ready for the event, but the results told us exactly what we needed to know.

Team driver Scott Hughes won the race. There was simply no one else that could keep up with Scott's super-fast pace. We were surprised that Scott even wanted to run in this race. A couple years ago he was leading the big Hemet race by half a lap, but on the final lap he had a minor problem and his truck simply quit running and everyone else drove right on by. He vowed never to run gas trucks any more. We're glad to see he's changed his mind.

Mark Pavidis took second place, with Billy Easton following close behind in third and Austin Dvorak in fourth. Richard Saxton ran out of fuel, costing him time.

All of these five drivers ran the new Factory Team GT gas trucks using Pro-Line tires and O'Donnell fuel.
---