B5 1-2-3 on Debut in Australia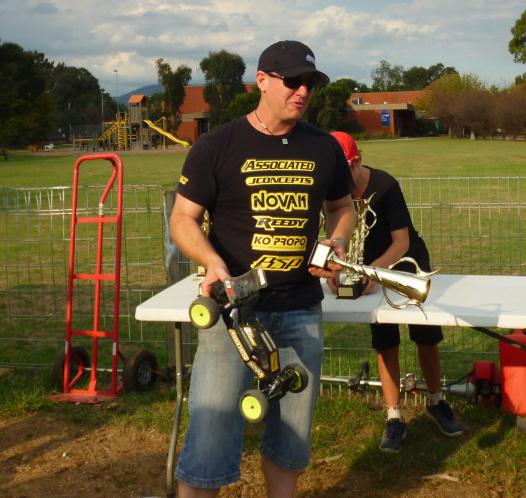 The Team Associated B5 buggy had a successful debut in Australia, dominating the podium in 2WD Open at the Knox Cup in Melbourne. For Round 1 of the popular Victorian Drivers Series, the event attracted over 130 entries and was held on an 'old school' dirt track which began wet then dried out and grooved up through the day's racing, but still had many bumps and some loose sections to contend with.

In 2WD Mod, the Team Associated drivers chose the rear motor option and it was Team Associated factory driver Ray Munday who TQ'd and took the first two finals to seal a debut win for the B5 down under. Team drivers Andrew Selvaggi and Glen Bonetti finished second and third, making it a podium clean sweep for the B5! All used Reedy batteries to tame the track.

The winning for Team Associated didn't stop there. Glen Bonetti and Ray Munday battled for 4WD Open with their B44.2 buggies, Glen taking the win in the third final. Ray won 2WD SCT with his SC10.2, with SC10s filling the podium. Glen Bonetti and Andrew Selvaggi came first and second in the Truck class with their T4.2s after a battle that went to the last lap. John Wiggins' B5 won the 21.5 class, where corner speed is king. In the 17.5 class, 13-year-old Team Associated driver Cameron Zammit made the podium in 4WD and just missed third place in 2WD.

Thanks to the club for putting on a great event, and thanks to Team Associated for their fantastic support and products!

Thanks to Ray Munday for this report.
---