Chad Due takes 2WD in Futaba Electric Challenge
Tuesday, Sep 9, 2014 at 12:00am CDT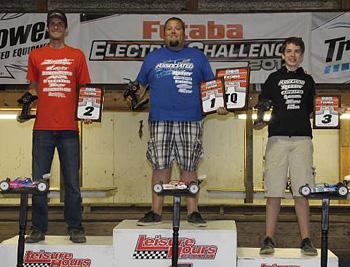 This weekend was the Futaba Electric Challenge hosted by Leisure Hours Raceway in Joliet, Illinois. This very unique event which competes on both indoor and outdoor surfaces across two days of racing to crown an overall champion.

The first day of competition started on Leisure Hours' flowing, high-grip indoor track. In 2WD, I was able to TQ two of the three rounds of qualifying to start first on the grid in the main with my RC10B5M, followed by Ryan Lutz and fellow Team Associated teammate Corey Liebherr. In the main, the first few laps were very clean and then a mistake by Ryan and Corey gave room for another young AE teammate Mason Perillo a way by. The rest was history after that as I was able to cruise to the finish with Mason taking second and Ryan third.

The second day was the outdoor portion of the Futaba Electric Challenge, which proved very difficult as track conditions deteriorated as the day progressed. Again in 2WD, I was able to TQ two of the three rounds over Ryan to start first on the grid for the main. At the start of the main it was very apparent that with nightfall in full effect and track temperatures falling, that grip was going to be at a premium. The first few laps were again very clean and then with a bobble by myself I let Ryan past. With nearly four minutes left of the 6-minute race I attempted to put on a charge but in the end it wasn't enough and Ryan was able to take the victory while I finished second and Corey in third.

After TQ'ing both days and finishing first on the indoor portion and second on the outdoor portion, I was able to claim the overall in 2WD. I would like to thank Leisure Hours Raceway, Hobbico, and Futaba for putting on such a fun event.
---