Team Associated Sweeps 1/10 Modified Classes at East Coast Race Against Cancer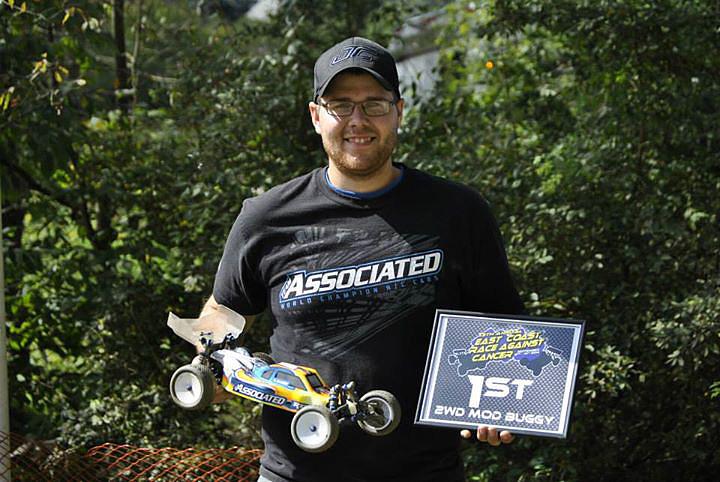 For the 13th consecutive year, McCullough's Off-Road Raceway in Sarver, PA hosted the annual East Coast Race Against Cancer. This year's event garnered 269 entries and raised over $23,000 for the American Cancer Society, bringing the 13-year total to over $111,000! Racers from across the east coast as well as Canada converged to race for this great cause over three days of competition.

In the Modified 2WD buggy class, it was all Team Associated on the podium with Brandon Marsh taking the win after a great battle with Luke McCullough who finished second and Nathan Clark in third. Brandon's RC10B5M was powered by a Reedy Sonic Mach 2 7.5T motor and Reedy 4100mah 65C Shorty battery. Team Associated cars also took 8 of the 12 spots in the A Main in the Modified 2WD Buggy class.

Brandon was able to back up his 2WD Buggy win with another win in the Modified 4WD Buggy class. Starting from the TQ position in his Factory Team B44.2, Brandon battled early with Nathan Clark and then pulled away for the victory in the second half of the race.

The Modified 2WD SC division was very competitive as well, with Matt Stoltz looking to repeat last year's win by taking TQ on the starting grid with his Factory Team SC10.2. Matt was able to take advantage of his good starting position to stay in contention the entire race, re-taking the lead in the closing laps after the leader experienced an overheating problem in the long, 10-minute A Main.

Modified 2WD Stadium Truck enjoyed an increased turnout this year at the RAC, and along with more entries came more competition. With a strong field of competitors, Nathan Clark piloted his Factory Team T4.2 to the TQ position and proceeded to lead the A Main wire-to-wire for Team Associated's fourth victory of the weekend.

Special thanks to the host facility, McCullough's Off-Road and track owner Doug McCullough, event organizer Scott Siegel, as well as all of the people who volunteered their time to help make this event a success!
Brandon's car utilized a Reedy Sonic Mach 2 6.5T motor and Reedy 5700 65C Saddle Pack battery. Matt chose to run Reedy's 5000mAh 65C LiPo battery along with a Sonic Mach 2 8.5T motor. Nathan's truck was powered by a Reedy Sonic Mach 2 8.5T motor and WolfPack 5000mAh battery. Brandon, Matt, and Nathan all ran XP DS1015 digital servos in their vehicles all weekend.

Photos courtesy of RCAddict, Jeremy Moser, and Brandon Marsh.
---