Team Associated at the 2014 I.F.M.A.R. 1:8 World Championship - We Did Everything But Win!
Thursday, Oct 2, 2014 at 12:00am CDT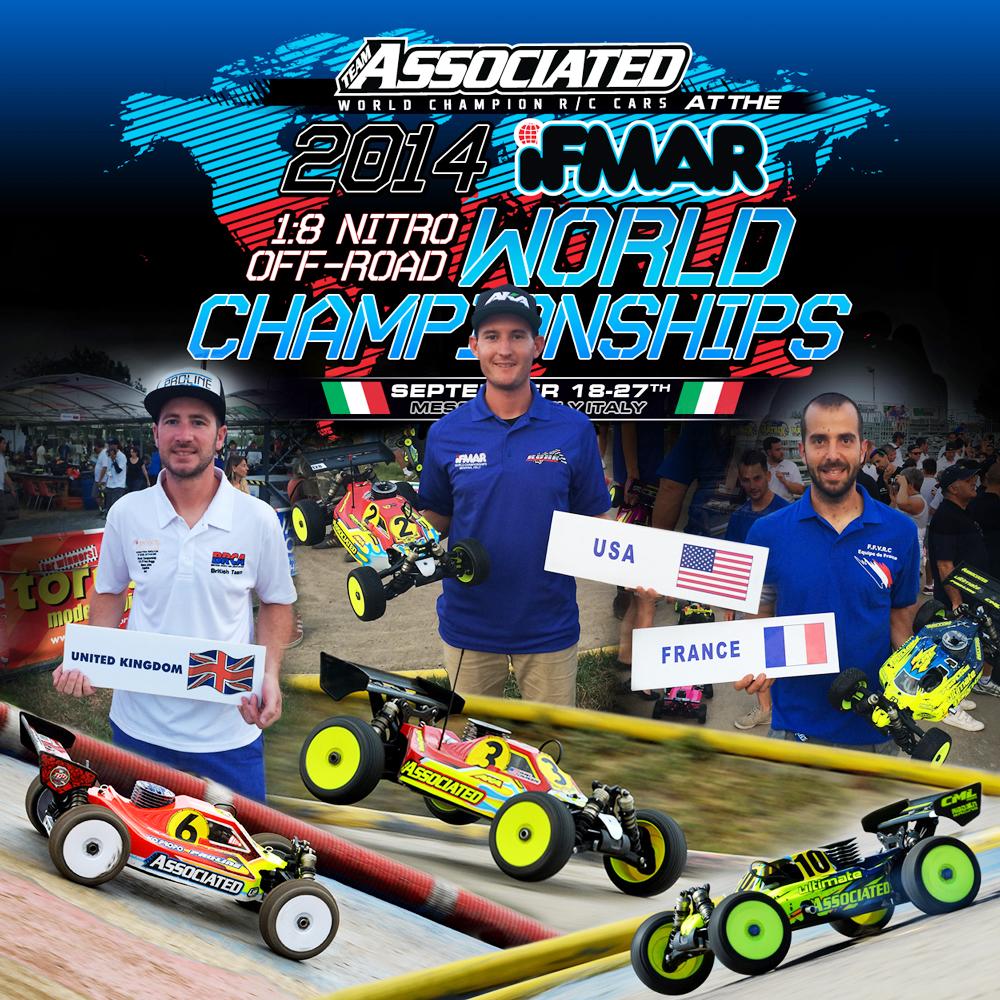 Well, almost everything... For those of you reading that have been to an I.F.M.A.R. Worlds event, it goes without saying — winning a Worlds is one of the most challenging accomplishments any RC racer could ever hope to achieve, period.

To win an I.F.M.A.R. Worlds you will need to have the most talent, top of the line equipment, a cool head and you will need heart, a lot of it. You will need both kinds of luck — the luck you make and the luck that the universe graces you with for no apparent reason. The most accomplished RC racers from across the globe come to this race armed with all of the above and it won't be enough but for only one of them, as the brutal truth and beauty of racing is that here can only be one winner. If it sounds tough, that's because it is, but it is also what makes racing at this level so very rewarding and exciting.

With twenty-seven I.F.M.A.R World Championships, Team Associated came within one position of title number twenty-eight at the 2014 I.F.M.A.R. 1:8 Off-Road World Championship. In racing there is only one winner and although winning the Worlds will be the main headline, there are many other success stories that could go under the radar if not brought to light. Team Associated did fall short of winning the 2014 I.F.M.A.R. 1:8 World Championship, but we did enjoy a few benchmark accomplishments that we would like to share.

• Ryan Cavalieri's 2nd place finish is the best finish for Team Associated at an I.F.M.A.R. 1:8 Off-Road World Championship.

• Team Associated had three prototype cars at the event total — two of which qualified directly into the semi-finals while the third bumped into the semi-finals.

• Ryan Cavalieri was the top American driver and his second place finish was his best ever at a 1:8 World Championship.

• Neil Cragg was the top British driver and made the semi-finals for the first time at a 1:8 World Championship; just missing out on the final by a few seconds.

• Yannick Aigion was the top French driver and bumped from the quarter to semi-finals.

• As a team, there were no D.N.F.s.

We learned a lot as a team preparing and competing at this event. This experience will transfer to our products, customers, team drivers and testing procedures to ensure that we produce quality product with an emphasis on value to our customers.

Thank you to everyone on the team who worked so hard and put the time in. You have reason to hold your head up and be proud. We don't race because it's easy, we race because it is hard, and we love it.

Congratulations to Ty Tessmann and his family — you earned every bit of this championship, job well done!

Congratulations to everyone who entered and raced the 2014 I.F.M.A.R. 1:8 World Championship. Here's hoping you made some good memories and brought home a story to tell. We here at Team Associated will look forward to racing with you again!
---