Team Associated Takes Fall Brawl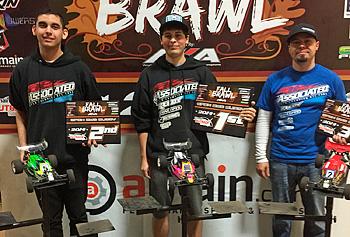 During the weekend of November 8-9, A-Main Hobbies hosted its 2014 Fall Brawl at their indoor facility, Outback Raceway in Chico, CA. The event hosted over 270 entries, making for competitive racing in all classes. Team Associated attended both the 2WD and 4WD Modified Buggy classes, with team drivers Eric Albano, Brian Strange, Nathan Bernal, Nick Wautlet, Jake Mayo, and Gonzalo Cortez racing.

Qualifying consisted of four IFMAR-format rounds, taking your best two of the four. Qualifying would be a challenge on the high grip and fast layout, so having slicks was the tire of choice. Team Associated's presence in the main events was high, with five buggies in the 4WD final and six in the 2WD final.

The Finals would start Sunday with triple a-mains and 2 bumps from each lower main. Albano had a rough time in qualifying, putting him in both B mains, but still manages to bump into both A mains. In the 4WD mains, the racing was very close, having the whole field battle for the win. The end results had A-Main driver Curtis Door taking the win with Brian Strange second and Eric Albano in third; all three drivers used Team Associated B44.3 vehicles.

The 2WD mains were very similar, with Nathan Bernal having a one-point lead going into A3, with a three-way tie for second. A3 would put on a show with Strange taking the lead for most of the race, until an incident allowed Albano to take the lead and the overall by less than a second. Nathan Bernal ended up second, with Strange taking third; this time all three drivers used Team Associated B5Ms.

Outback Raceway hosted a great event, with Kevin Jelich running the race program and building the track. There was exciting racing in all classes and a well scheduled program that saw close racing on the ultra high-grip surface. Thanks to all the participants and to the A-Main crew for a great event.
---